Write about Wine. Read about Life. WineWonks, the Wine Blog Community.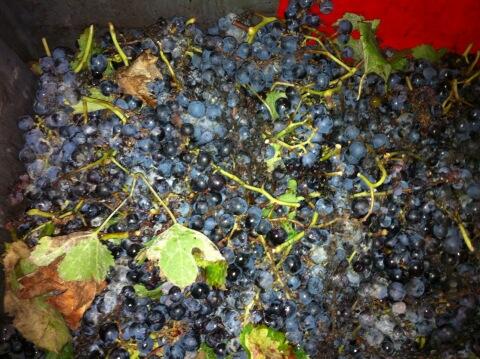 This is what rot looks like on Cabernet Sauvignon grapes. These grapes were harvested, but then rejected during manual sorting at the winery. These were picked at a top wine estate in the Medoc.








"We lost around 280 hectares out of a total of 300," said Vincent Cruège, a spokesman for André Lurton, who owns Château Bonnet in the Entre-Deux-Mers region. The estate normally produces around 1.5 million bottles of white and one million bottles of red a year.
Quite clearly the 2013 Bordeaux harvest will be a struggle.
Perhaps a flippant summary for the 2013 harvest would be:
'Rain, Rain and more Rain'
Stéphane Defraine, president of the Entre-Deux-Mers Winegrowers Union, said hailstorms will cost winegrowers across Bordeaux at least €300 million, or about $400 million, in sales.
The French agriculture ministry projects this year's Bordeaux harvest will be about 4.4 million hectoliters, down 19% from 2012. The small 2013 crop puts wine producers in a difficult spot: low volumes will make it hard to meet global demand, but the weak quality of the grapes will make it tough to compete.


A summary of the 2013 growing season in Bordeaux:
January/ February/ March were very cold and wet.
April had some warm days, but was also very cold.
May was wet and cold. Too much vegetation on the vines (from the wet spring) meant that extra shoots had to be discarded on each vine. Mildew was present.
June was wet during flowering. Caused Millerandage (malformation of bunches)and set for late harvest.
July was hot but with severe rain at the end of the month. Green harvest to expose the fruit and hope for sunshine to ripen the grapes.
August was hot but with hail at the beginning of the month in Entre Deux Mers caused losses equivalent to 78 million bottles.
September was wet and warm and humid. Rain Sept 27-29.
October was wet(3rd and 4th October big rain) and the evenings were extremely humid. The harvest was brought forward by many wine estates as rot was becoming a major issue on unripe grapes. Initially planned to start October 7th, but many picked from October 1st and all weekend. Harvest mainly finished in Medoc by October 16th.
I was at Mouton Rothschild when all the employees were 'invited' to work over the weekend....literally all hands on deck.
The best soils of the Medoc eg the higer plateaux of Pauillac in between Mouton and Lafite had exceptionnally healthy grapes, but they also had the problems with possible rot due to the wet and humid conditions.
It was the most bizarre harvest as mostly the merlots of the Right Bank are harvested a week before the Cabernet Sauvignon of the Medoc. But due to the wet, damp weather grapes were harvested quickly. Some of the merlots were of uneven ripeness and the Cabernet Sauvignons were just OK.
Chaptalisation will take place at most Chateaux in order to bolster the wines.
Yields will be low due to the variable weather and severe selection of the best grapes.
'A year for the best terroir'......a quote during harvest from Paul Pontallier (managing director of Chateau Margaux)
A year for severe selection.......whether hand selected or by the optical sorting machines.
The taste of the wines........it is too early to say, but the growing conditions have been extremely challenging. We shall taste some of the post fermented juice over the next few months and we shall see the Primeur sample at the end of March 2014, when we will decide the quality. It would be miraculous if 2013 produces great wines!
Some optimisim from a Decanter article:
'We are looking at a vintage that is somewhere close to 2004 or 2007 in profile, even 2008, which for us was a very succesful year. ' Herve Berland, director of Chateau Montrose in Saint Estephe, told Decanter magazine.
Volume in the Bordeaux region may fall to 543 million bottles ( a drop of 30% from normal production). Smallest grape harvest since 1991.
Also we often overlook the Sauternes and Barsac areas for sweet wine production, when we talk about the Bordeaux harvest. This area thrives on the right kind of rot, but needs perfect climatic conditions.
Unfortunately the rain that pelted down at the end of October has impacted on the quantity, for what was initially looking like an excellent year for Sauternes.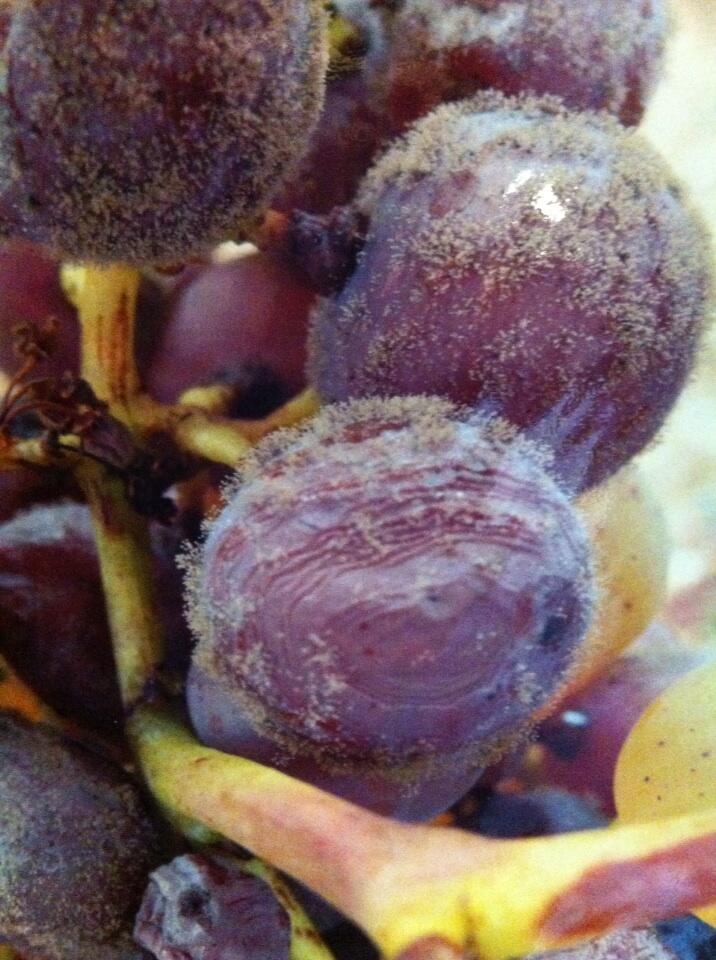 Botrytis on the grapes at Chateau d'Yquem during the 2013 harvest. Maybe rot is welcome somewhere!!!
In conclusion the best Chateaux, who have the most financial resources to select the best grapes and employ sufficient people in the vineyards and also to have the most high tech equipment should be able to produce some good wines. The interesting fact is that if these climatic conditions took place in the early 1990sor 1970s there would not have been much wine produced at all. Perhaps Monsieur Berland from Chateau Montrose and Monsieur Pontallier have reasons to be optimistic for their wines. The prices will have to be fair for this vintage.
Chateau Mouton Rothschild have just announced that the French man Guy de Rougemont is the latest artist who will feature a piece of work on the 2011 Chateau Mouton Rothschild label.





Guy de Rougemont has already worked with Chateau Mouton Rothschild, as he designed a magnificent colonnade within the building where the original pieces of art are displayed.
Monsieur de Rouhemont is actually an old friend of Baronness Phillipine de Rothschild. They have known each other for over 60 years.
Rougemont frequently uses serpent like characters in his work, he has used his trademark "sinuous, random" undulating shapes, in bright colors ranging from gold to dark red. Mouton Rothschild says the artwork encompasses "the clarity of vines in sunshine to the darkness of the cellars – all the stages of the birth of a great wine."
The wine was bottled in June of this year and most of the wine has all been sold as Futures via the Bordeaux negociants and global imprters. The opening price (ex negociant was €360 per bottle). Robert Parker, the American wine critic awarded the wine 93-96 for the barrel sample, which was perceived as one of the top ranking wines of the 2011 vintage. The current trading price for the wine is approximately £3400-3600 per case, which is about the same as the release price. 2011 was a good vintage in Bordeaux rather than being spectacular. I have tasted the 2011 several times at the Chateau and during the ageing process. This wine will age well and be delicious in 10-15 years time. Whilst following the incredible 2010 vintage it might not be a classic it is certainly a very good quality wine for keeping.
Since 1945 Chateau Mouton Rothschild has invited artists to offer a piece of art to decorate the wine label. In fact in 1924 Baron Philippe de Rothschild invited Jean Carlu to design a label for the Chateau, but at that time the label was considered to 'avant garde'. Famous artists have been invited to design the label such as Dali, Balthus, John Huston, Chagall, Kandinsky, Warhol and Miro.
The original art work for the labels is now on display at the Chateau and with the re opened wine cellar (since June 2013) and the Museum of Art and Wine, it is certainly worth visiting and tasting at the Chateaux. The two other Pauillac wines in the Pauillac area owned by Baronness Philippine de Rothschild are also worth looking out for: Clerc Milon and d'Armailhac.
Bella Wine Tours
regularly visits Chateau Mouton Rothschild.
The unfortunate scene at Chateau Lafite Rothschild today after heavy storms last night.
The lovely parkland in front of Chateau Pontet Canet after the storm.
Two out of three flag poles have gone at Pontet Canet.
Big tree down at the village of Bages near Pauillac. The electrcity was cut out for most of the day. Hope the wine is OK in the barrel cellar at Chateau Lynch Bages.
There used to be a large tree in front of Chateau Palmer.....now there is a small pile of logs.
It is too early to say what the damage has been in the vineyards. There was certainly some hail on the Right Bank nearer St.Emilion, but the Medoc mainly had tree issues. The Bell Tower on Pauillac church was blown away with the ferocity of the wind.
Lets hope for a calm night tonight.
2013 has been a testing growing season.....Cold long winter, wet cold spring, bad weather at flowering (in particular effecting the merlot vines).....and now extreme heat followed by storms. There is still hope for a decent crop if the weather is stable over the next three months.
Last week I was lucky enough to visit Chateau d'Yquem with some clients. This stunning Chateau in Sauternes has a remarkable heritage and history dating back over a thousand years. The beautiful wine has been served at Royal housheolds throughout the World for many centuries. This wine is the epitome of a luxury brand. It is now controlled by Louis Vuitton Moet Hennessy, who have an excellent track record for promoting, marketing and selling luxury.
When I visited the Chateau the gardens were in full bloom. The colours and smells were sensational. The bees were very happy.
Unfortunately on Sunday night there was a break in at the Chateau and 384 half bottles of the 2010 vintage were stolen....the approximate market value for these bottles is €100,000.
'For bespoke vineyard tours, Hamish Wakes-Miller of Bella Wine Tours can open doors to the mighty names of Chateau Latour, Lafite Rothschild, Palmer Cheval Blanc and the like (bellawines.co.uk). He is vastly knowledgeable and great company.
' Country and Town House Magazine, June 2013.
We were extremely proud to be mentioned in an article featuring Bordeaux in the June edition of Country and Town House magazine.
Please click on the link for the full article
here
.
I met the journalist Laura Ivill last Autumn and she joined one of the
Bella Wine Tours
trips to a few top quality Chateaux. Laura writes for several publications including the Sunday Times and now she is contributing to Decanter Magazine.
It was lovely to see features on
The Grand Hotel
in Bordeaux and also the beautiful
Les Sources de Caudalie
where many of our clients stay whilst they are in Bordeaux.
We have tours and tastings organised throughout the year. We are quoting for business groups in February and March 2014 as well as for the rest of 2013. Please contact me directly at hamish@bellawines.co.uk if you are interested in tasting some of the finest wines and having a great experience in Bordeaux.
The term 'wineinvestment' has become a more frequent phrase in the last 24 years since I have been in the wine trade. Wine investments are now increasingly popular as other investments have become more diffcult/volatile/risky.
People work very hard to make wine, then ship wine all around the world to different markets. Inevitably there are many people involved in the process from the vineyard to the dining room table. Agents, importers, distributors, wholesalers, retailers all need to make a living and therefore a margin. These roles are quite clearly defined and even with modern efforts to make wine more competitively priced and the 'direct sales' model advocated by mail order or internet companies, sometimes it can be difficult to actually make a sensible return of profit. Retailers have large overheads and an uncertain economic climate, whilst wholesalers have slimmer margins and the risk of bad debt as restaurants feel the pinch. Fuel, transport, import taxes and foreign exchange fluctuations can seriously erode margins for distributors and wholesalers.
However amongst all the problems for trading wines there have been some significant financial gains to be made in the fine wine market as wine investment. But beware like all investments there are inherent risks and occasionally peaks and troughs to endure. One immediate advantage if you do lose money with your wine investment is that you still have an asset ( even if it is at a reduced value)........and you can drink it!!!

Chateau Ausone has a very small vineyard and is a Premier Grand Cru Classe (A) in Saint Emilion. But is it a good investment?
There is an increasing amount written about wine investment such as this recent article in The Daily
Telegraph
. It will be interesting to see whether the fine wine market appreciates by 14% in 2013. The signs are certainly looking good at the moment.
Like any investment there are crucial aspects that need to be implemented in order to achieve the best results. One crucial aspect is genuine market advice. Which Chateau is the next big thing?
Which area is surging forward?
Which are the genuine 'good buys'?
What is the provenance of the wine?
What are sound good long term investments rather than short term spikes?
The potential gain can be significant, whilst everyone should enter any investment with their eyes wide open as there could be a potential loss. However one significant advantage to wine investment is that the investment is a tangible physical asset rather than a paper share certificate. There is always the consolation that the wine can be enjoyed as a drink.....whether the investment improves or not!!
I have a 'wine investment portfolio' that I have mainly kept for personal enjoyment.....in a few years time I hope to share some good bottles with friends and family. In recent times I have been checking the value of the portfolio as an investment and tracking each month the value. We are riding a wave at the moment with an increase in value of 3.72% between January and February and an increase of 7.92% between January and March. This is an area that I feel I am very well placed to offer genuine advice, as I have good contacts with the Chateaux in Bordeaux via
Bella Wine Tours
, and I am the commercial agent for a well established negociant in Bordeaux. I should be able to get the right allocations of the right wines!
The immaculate vineuards of Chateau Fonplegade in Saint Emilion.
There have been several articles about wine and health recently in the UK press. With the Chancellor of the Exchequer announcing his financial budget next week, there are bound to be increases in UK taxation. (A bottle of wine is currently taxed at £1.90 plus 20% vat in the UK).
There always seems to be a propaganda agenda for the anti binge drinking brigade just before any budget, as if to sanction the reasoning behind taxing alcohol.
But wine can be extremely good for you. There are anti oxidants and relaxants in alcohol that can act as anti depressants. The taste and flavour of wine can be delicious. Food can be enhanced by interesting wines.
And it is scientifically proven that wine contains resveratrol, an organic chemical believed to have an anti-ageing effect, by boosting activity of a protein called SIRT1.
This interesting recent article in
The Daily Telegraph
explains a little more about the tests. But I am not sure whether it is a good thing to live to 150 years old!!!
There have been
previous articles
about the health benefits for wine. But one article explained that for a positive benefit of resveratrol you would in fact need to drink 700 glasses per day, which might counter act any health benefits!!!
Why don't we just enjoy a wonderful natural unadulterated drink such as wine. There are so many flavours styles and tastes to explore. If a glass of wine relaxes you and is also good for you then that is a great side effect. I don't enjoy inept, immoral hypocritical politicians telling us what we should or should not do at the best of times, but taxing alcohol is an easy target for the negative aspects of alcohol related crime and the negative effects of hard/distilled alcohol.
A belated Happy New Year to everyone. ....I am not sure when it is still respectable to wish 'Happy New Year'!

The majestic Chateau Marguax on a sunny day last summer.
The end of 2012 and beginning of 2013 have been extremely busy on the work front.
Bella Wine Tours
has received many requests for wine tours in Bordeaux for this year. As we reply to each and every customer individually and try to listen to their requests it does take quite some time to organise tailor made wine tours. But we are determined to maintain top standards, so that we can build a strong business renowned for quality and service. We have enjoyed some very pleasant reviews from
Trip Advisor
.
A few comments from guests in 2012:
'Hamish is the perfect guide to help you explore Bordeaux' amazing Chateaux. Hamish opened doors to Chateaux that were off the tourist path and even arranged for us to spend the night at one.'
'What a tremendous experience we had with Hamish over a two-day period of Chateau tours and tastes. Hamish (your guide) will bestow an enormous amount of wine knowledge on your during your tours with him.

From the start he was quick to respond to our very last minute request for tours and quickly put together a stellar itinerary for my wife and me. We spent two full days with Hamish starting in the mornings, a unique lunch each day followed by more tours and tastings in the afternoon. Each Chateau clearly had a mutual respect for Hamish and we felt very welcome at each one we visited.

Hamish's knowledge of wine far exceeds any tour we have ever been on...and we have toured 7 different wine regions in addition to Bordeaux. You will walk away with an understanding of the region that is one of the most difficult to understand. As a plus for us...he speaks English and French with English being his primary language making the tour very easy to follow.

Hamish was also quick to help us book the hotel, dinners, etc! Overall a wonderful wine experience in Bordeaux that we would highly recommend to all!'
The delightful Violaine explaining biodynamics in the vineyards at Chateau Pontet Canet in Pauillac.
So what are the plans for 2013? We will be responding to enquiries on an individual basis. We will make the visit to Bordeaux a memorable experience. We are aware that many people want to have a genuine experience rather than a top 'white tablecloth' dining experience, therefore we will arrange more winemaker dinners and find more rustic, rural and charming restaurants.
We will also be organising some group tours to some of the First Growth estates. These wine tours will be top quality and run over 4 days. These are planned for May, June, September and October. Please email hamish@bellawines.co.uk for more information.
I have been travelling and tasting at many different Chateaux in Bordeaux over the last few weeks. The red grapes have all been harvested and are either fermenting or being transfered to oak barrels. The dry whites were picked quite early in order to maintain the freshness, whilst the sweet wines from Sauternes and Barsac have had a difficult time.
I was at Chateau d'Yquem on Friday and met one of the technical team Sandrine Garbay. The rain that arrived in Bordeaux in October has effected the grapes in Sauternes badly. The normal 'tri' harvest when the pickers go through the vineyards several times has been stop/start. Much of the fruit currently on the vine (today) will be dropped on the floor.
I also saw the team from Chateau Guiraud on Friday. Xavier Planty the charismatic joint owner of Guiraud was keeping a positive frame of mind. But Guiraud had problems during the growing season with mildew (they are now fully organic, so treatments against mildew are difficult). Guiraud have picked the grapes for their excellent dry white wine 'G de Guiraud' and they have picked some botrytis grapes but not any good quantity of top quality grapes for their top wine.
Bordeaux is a difficult place to grow grapes with the Autumn rains normally at harvest time, but this 2012 vintage is looking even more precarious. It is too early to give definitive views; and ultimatley the best judgement is when we actually taste the wines in early April, but the situation in Sauternes is so bad that the top estates might not actually make any wine. Chateau d'Yquem do not produce a second wine (they make a different style of dry white called 'Y'). So the Chateau has no system of downgrading grapes to a lower tier. The decision at Yquem will be either to make wine or not. The Chateau did not release any wine in 1910,1915,1930,1951,1952,1964,1972, 1974 and 1992. Let's hope that the seemingly 20 year cycle of duff vintages has not continued into 2012!
I'll be tasting at Chateau Mouton Rothschild, Pontet Canet, Grand Puy Lacoste and more in Pauillac tomorrow so I'll get more feel for what is happening and update shortly.
Initial views are that the red crop is a significant drop in volume from 2011 and the quality in some vats is very very good. The dry whites are looking good too.
Ripe grapes ready to be picked at Chateau Grand Puy Lacoste
The 120 pickers gather at Chateau Margaux for their instructions.
Horses being used to transfer empty crates at Chateau Pontet Canet
First sorting table (whole bunches) at Pontet Canet














Second sorting table at Pontet Canet (individual berry selection)
The 2012 grape harvest has started in Bordeaux. The growing season has been slightly topsy turvy! There was extreme cold during the winter of 2011/12, which is normally absolutely no problem when the vine is dormant. But in Pomerol it reached -16 degrees celsius for a few days and the vines suffered.
Spring was wet and gave the vines enough water to keep alive.
The crucial flowering time at the end of May/beginning of June was very protracted due to uneven weather. The merlot vines seemed to have suffered more from
coulure
, which is a result of uneven flowering. The resulting bunches have become uneven and straggly.
The usual problem of mildew seemed to arrive with avengeance in 2012, due to the humidity of the Bordeaux area. Therefore Copper Sulphate was sprayed on non organic vines to prevent further outbreaks. Some yields will be significantly lower due to problems of mildew.
Then the summer weather was full of peaks and troughs! There were spikes of extreme heat (as much as 40 degrees) as well as some rain and humid weather.
The end of August and beginning of September have been hot and dry.
Now as the grapes are ready to be harvested we have had some rain, so sorting and selection will be crucial for the berries.
I have been visiting the vineyards throughout the year and especially over July, August and September, when the grapes are changing colour and ripening.
Everything is looking OK now. Many Chateaux started to pick last week and surprisingly the Medoc (left bank = more Cabernet) is being harvested in some cases before the right bank (mainly merlot).
I'll be back in the vines next week, when I shall report back further.
Delicious aromatic grape juice during a pump over at Chateau Beychevelle. (I wish you could smell this!)
I had lunch with Philippe Blanc (MD of Chateau Beychevelle). He had started picking young merlot vines early last week, and then he had stopped.....now he will restart this week.
The crucial time will be post fermentation when we can taste the wine!
The magnificent Chateau Beychevelle. in Saint Julien.
The gardens are always colourful at Beychevelle.
I had heard a few things about an interesting wine shop opening in central London, so I popped in on Friday after a tasting of 191 Cru Bourgeois wines from the 2010 vintage. My teeth were coated in tannin so I tried not to smile at anyone!
(Un)fortunately the first person I met as I entered the shop was a friend of mine called Tobias Brauweiler, who is a top sommelier. Tobias had set up the wine list at Ellenborough Park Hotel at the end of Cheltenham racecourse. Tobias showed me around the incredible shop.
If any wine lover wants to see the best of the best I would thoroughly recommend Hedonism.
If you want to see Chateau d'Yquem going back to 1811 (priced at over £100,000 per bottle!) or an uninterrupted vertical of Chateau Mouton Rothschild from 1945-2004, or Jeroboams of Chateau Lafite Rothschild then this is the place to go.
In fact their collection of large format bottles is quite staggering. I mentioned that the racks of Jeroboams, Methusalahs, Imperials and Melchiors looked like torpedoes. They even have a 27 litre bottle.(called a Primat)
The shop is owned by a Russian chap called Yevgeny Chichvarkin, who had previously been a big operator in mobile phones. Mr Chichvarkin takes a very 'hands on' approach to the shop, being there every day supervising and overseeing the shop.
The wine buyer is Alistair Viner, who ran the Harrods wine depertment for many years.

Here is a slightly blurry picture (my fault), of Tobias in the Mouton vault. You can buy the whole collection for £130,000.
The selection and quality of wines is truly amazing, but the staff and ambience are extremely warm and welcoming. There is also an oenomatic tasting machine, so you can taste iconic wines such as Chateau d'Yquem 2001 or other wines. The unusual touch of having a children's play area with Ipads sets this place apart from your average traditional wine merchant. The whole place is an alladins cave for wine lovers, but it is also a wine shop that will undoubtedly attract some wealthy international clients. I have no idea how much money Mr Chichvarkin has invested in Hedonism, but this place is the best wine shop I have ever seen.
One other thing that I was extremely happy to see amongst all these great wines was my very own Chateau de la Riviere perched on the shelf next to Chateau Angelus, Lafite Rothschild and Latour.
I do not know where they bought the 2004 Chateau de la Riviere from (the vagaries of Bordeaux wine distribution), but it was great to see drinking wine on the shelves as well as icons.
Hedonism has been open for 5 weeks and various inquisitive people have explored the shop. It will be very interesting to see how this extreme luxury, high end wine shop performs.
Victoria Moore of the Daily Telegraph visited the shop recently and she wrote about her experience
here
.
If you read this blog regularly or know me in the wine trade, then you will know my strong links with Chateau de la Riviere, a beautiful Chateau in the Fronsac region. This region on the Right Bank of Bordeaux has about 800 hectares under vine. The soils are limestone (on the hillside), clay and sand, which is very similar to the nearby Appelations of Pomerol and Saint Emilion. Therefore the predominant grape variety planted is Merlot, followed by Cabernet Franc, some Cabernet Sauvignon and occassionally some Malbec.
The Appelation Fronsac covers red wines, but there are also some lovely rose and white wines being produced.

Regions like Fronsac can be overlooked in the Bordeaux area. Often it is easy to talk about the very top wines of the well known areas, but some of these lesser known Appelations can offer great value for money.
Victoria Moore has written a good article about Fronsac this week in the Daily Telegraph.
Biodynamic viticulture has gradually spread in popularity. The vineyards of the south of France with their dry warm climate and refreshing strong winds have adapted very well to organic and biodynamic culture.
However biodynamics can be difficult in the Bordeaux region. It is not the warmest area and there is a large amount of humididty from the Atlantic Ocean as well as the large rivers. So various vineyard problems have to be treated such as mildew and millederange.

I was in the vineyards on Monday and Tuesday and I visited and tasted at two biodynamic producers .....Chateau Pontet Canet in Pauillac and Chateau Climens in Barsac. Chateau Pontet Canet started their conversion to biodynamics way back in 2004 under the guidance of the vineyard manager Jean Michel Comme. Now Jean Michel's wife has bended the ear of Berenice Lurton in Barsac, as they have started the 4 year process of converting to biodynamics. (the should be fully certified biodynamic by 2014).
It is interesting that these two properties have transformed into biodynamic viticulture as they are both making stunning wines in Bordeaux. The proof is in the bottle.
Pontet Canet and Climens are not the only biodynamic vineyards in Bordeaux. The excellent quality and value wines of Chateau Falfas in the Bourg region have also been practising this method for many years.

It was great to see a couple of key points at both wineries on Monday:

Here the vineyards of Pontet Canet are being sprayed with talcum powder using one of their 5 horses:

And here are a few of the dried plants at Chateau Climens that they make 'tissanes' (similar to tea infusions) in order to spray the vines....they use sage, nettles, camomile, laurel as well as a few others.:
After the re newed classification of the Saint Emilion classification there has been a few quiet adjustments to wine collections and portfolios.
The 2012 classification is actually in line with the pricing rather than being a major change, which influences the market.
This is in contrast to when Robert Parker regraded the 2009 vintage in March this year there was dramatic price movement and some Chateaux added €500 per case overnight on the secondary trading market. Robert Parker graded 19 Chateaux a maximum 100 points.
In effect the market has already factored in the quality of the upgraded Saint Emilion wines and the promotions and movements are simply rubber stamped.
This chart below is from the Liv-Ex blog:










*Average price for a 12x75cl case in GBP across the 2005-2009 vintages.

So the question is.....where is the value?
I like the style and quality (and price) of Chateau Figeac. I also think that Chateau Canon are undervalued, having had enormous investment from the Wertheimer family (owners of Chanel).
Ausone is a great wine, however I think the price here reflects the scarcity more than anything else., so not much real value. LVMH, the owners of Cheval Blanc have just spent €15 million on their new wine cellars, and they have expanded their vineyard areas and maintained their high price.