Write about Wine. Read about Life. WineWonks, the Wine Blog Community.
Date: Mon, Oct 15, 2012
From the last few remaining 125+ yr.-old ungrafted vines in this largely uprooted vineyard, this wine has a plush texture, and an intense concentration of flavor that is out of proportion to its weight (which is not heavy). Very unique. And really really good.

Nearly fully-saturated dark ruby violet. Intense, nearly pungent boysenberry fruit, stony minerals, and bitter herbs leap out of the glass. Intense, focused fruit immediately coats the mouth, with loads of mixed berry and berry skin flavors, and lots of high-toned minerality. No discernable oak to obscure this tremendous character of the old vines and unique soil. Full-bodied, with pretty decent acids. Very long, pure finish. Just outstanding to sip on its own, it would also complement a wide variety of dishes and cheeses. A. Was $27 from WineAccess.com, but obviously worth the high (for me) price.
Date: Mon, Oct 15, 2012

A big, rustic Aglianico, with a very roasted nose/flavor profile and a broad texture.

Completely saturated black black ruby. Low-toned and woodsy/brambly on the nose, with very dark blackberry fruit, and dark baker's chocolate and scorched earth. Bone dry in the mouth, with very minerally-tinged cassis fruit, with pungent roasted herbs abounding. Loads of medium-fine-grained tannins coat the mouth. Good acidity, and full-body too, so the balance is nice. It's just that the flavor profile is kinda rustic. Bfor now, but it might soften and improve over the next 2-3 years. I got this while eating at Pupatella pizzeria in Arlington (which makes amazing true Napolitana pizzas and fritture), and then took the rest home. Imported by Michael R. Downey Selections, Lorton, VA.
Date: Wed, Oct 10, 2012
A good value, fully mature, fairly complex Valpo. Tedeschi has been a very good producer in this region for several decades. I used to carry a Tedeschi Capitel San Rocco Valpo in the wine shop I managed back in the mid-80s, and it was very good as I recall. This wine is neither fish nor fowl; it's a unique style. Weight and body-wise, it's mid-way between a normal Valpo and Ripasso style.

Dark blackish garnet color. Big, animated, earthy, yeasty nose with loads of ripe but tartish berry fruit. Mouthfilling and flavorful, this wine counterbalances intensity and a light mouthfeel. Very earthy, mature, satisfying flavors, with dark, dry berry skin fruit. Bone dry, with some drying but soft tannin that is slow to leave. Bit of pleasant bitterness appears in the finish. Good, lively acids. I give it a B+, but others who aren't fond of earthy wines may not like it as much. Was $14.99 from Winex.com. Imported by Dreyfus/Ashby, NYC.

(Sorry, 2006 shown.)
Date: Mon, Oct 8, 2012
A big, dark low-toned, intensely-flavored, and significantly-oaked Zinfandel. Not my favorite style, but still, very well done.

Fully-saturated, plasma-like, black ruby-crimson. Low-toned nose of smoky sandstone and earth, minerals, dark blackberry skins, and espresso roast coffee. Dense flavors immediately coat the mouth, with chocolatey-dark berry flavors and a lot of graphite-inflected minerals. Dense and large-boned. Loads of soft tannin and very full body. Drink this one in mid-winter with a winey stew and it will shine. B+. Was $27 from WineAccess.com.

(Sorry, 2007 shown.)



Date: Sun, Oct 7, 2012
A zesty, herb-tinged and very quaffable style of Grenache. Not as big and earthy as Chateauneufs, or as powerful, weighty, and densely-fruity as the best old vine Spanish Garnachas. This is a wine that doesn't necessarily shine on its own, but fits in beautifully with a meal.

Dark, magenta-shot ruby. Bright, slightly tartish raspberry fruit coupled with mixed green herbs on the shy nose. Much more animated in the mouth than the as yet undeveloped nose suggests, it fills the mouth with earthy, iodine-tinged, herby black raspberry fruit. Lots of youthful but soft tannin, and very good acids provide nice framework. Medium-full-bodied, with pretty good concentration. As the finish wears on (it's a long one), the fruit lingers and comes more into focus. This wine will age nicely for 2-3 years, but if you like them young, it works nicely now too (but run it through a Vinturi or decant it to allow it to develop. B(+). Was $22.99 from WineAccess.com. Neither a good nor bad value at that price.
Date: Fri, Oct 5, 2012
One of the best, and best value Rosso di Montalcinos I've had. Fragrant, deep, ripe, complex, and textured.

Very saturated black ruby/garnet with brick edges. Deep, very ripe blackberry and plummy fruit together with loads of fragrant gravel and minerals on the nose. Intense, deep-toned flavors of pungent graphite-laced earth and bone-dry essence of blackberry extract. Lots of medium fine-grained tannins and full body give lots of oomph, and the finish is long and chewy. I can't imagine this improving much, so drink over the next 18 months. A-. Was $14.99 from WTSO.com. Imported by Palm Bay International, Boca Raton, FL.
Date: Sun, Sep 30, 2012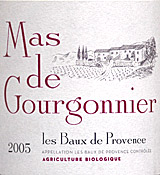 This wine is consistently a very good wine and very good value. It's always organically made from 50-60 year-old vines, and tastes like a traditional Provencal red. The 2010 is definitely up to past quality standards.

Very dark blackish ruby with a violet tinge. Dark rich, ripe berry fruit, equaled measure-for-measure by scents of graphite and sandstone. Low-toned minerally fruit coats the mouth, with lots of youthful tannin. Full-bodied, with good concentration, but no alcohol peeking through. It actually seems a bit tight. Very long finish, and nice balance. Will keep and improve for 2-4 years, but drinking well now for those who, like me, like 'em young (we're talking wines here, of course). B+. Was $15.99 at Whole Foods in Alexandria (Old Town). Imported by Dionysos Imports, Manassas, VA.

(Sorry, 2005 depicted)
Date: Sat, Sep 29, 2012
Grown in the Santa Cruz Mountain area, this Grenache (from 101 year-old vines, grown on its original roots), shows off intense cherry fruit with a bit of black raspberry, along with a pungently stony minerality. It's very good, balanced, and focused, and not at all the fruit bomb one would expect from such old Grenache vines in California. In fact, it's a little on the lean side. This wine would do very well with pasta in a good meat sauce or grilled burgers.
Deep violet-tinged ruby. Dry cherry extract coats the mouth, along with stony minerals. Lots of soft tannin, as well as acids and alcohol. Not very complex, but satisfying and athletic in a linear way.
B+
. Was $17.99 from Winex.com.
Date: Thu, Sep 27, 2012
A solid Chianti with good depth of flavor and balance but a little shy on the nose.

Deep, youthful, vibrant dark ruby color. Fantastic nose that I wish was a bit more animated, but as it is it shows rich, ripe, sweet cherry extract, warm gravel, and a bit of lemon juice. Rich and mouthfilling, with deep cherry fruit and a nice, clean, minerally earthiness. Lots of soft tannin and good acidity add structure and balance, and the finish is long. Not a classically-built, old-school Chianti, but a very good example of the modern style. A-/B+. Was $13.99 from winex.com, making it a very good value. Imported by Domaine Select Wine Estates, NYC.
Date: Thu, Sep 16, 2010

This Syrah -- from a dry, hot region in the south of France, and unoaked, I think -- is an excellent value. I would put this up against Crozes-Hermitages and oaky U.S. Syrahs costing 2-3 times as much.
Gorgeously dark ruby with violet highlights. Deeply fruity nose of rich cassis and blackberry along with smoky, gravelly scents. Concentrated and tight, with good weight in the mouth yet with a relatively soft texture. Tightly-wound core of deep-toned dark berry fruit with a long, mineral/schist-infused finish. Soft enough to enjoy now, yet its balance, concentration, and loads of soft tannin will insure that it will keep for a couple of years. 88. Only $11 at Spec's on Smith. Imported by Weygandt-Metzler.
Date: Thu, Sep 16, 2010

A relatively rare rosé from Italy. And a very good one!
Light, bright pink color with a canteloupe tinge. Direct, fresh, fruity nose: lots of strawberry and tropical fruit; slight hint of earth. Round, richly-fruited, but with medium-light weight in the mouth. Very soft texture, pure fruit, and a fresh, dry, slightly minerally long finish. Very elegant and nicely-done. 89. Imported by Enotec Imports and was $16.99 at Houston Wine Merchant.
Date: Sat, Sep 11, 2010

A classically-proportioned example of the quintessential red from my ancestors' region of Italy (Le Marche -- which is mid-way up the boot on the Adriatic coast). Made from 100% Montepulciano grapes.
Very black-toned ruby. Smoky gravel scents over minerally blackberry extract. Dark, brooding flavors of fragrant charcoal embers and very low-toned dark cherry. Gives the impression of a rustic, country wine that has learned how carry itself elegantly. Good acidity and tannin for structure. Long, smoky finish. Was a great accompaniment to pork ribs braised in wine and tomatoes with garlic and rosemary (a classic Marchigiano style braise). 88. Was $17 at Spec's on Smith. Imported by Bedford International.
Date: Sat, Sep 4, 2010

A fleshy, fruity, grassy Sauvignon. Not elegant, but doesn't skimp on flavor.
Pale silvery gold. Fresh nose of cold grapes and gooseberries, with grassy, green pepper notes. Soft and fleshy in the mouth, with lots of pear and pear skin flavors. Full for a Sauvignon Blanc, with fairly low acidity and a broad mouthfeel. Not a shy, crisp minerally Loire style. Much more New World than French-seeming. 86. Imported by Robert Kacher. I think I got this at Whole Foods on Bellaire for $12.
Date: Sat, Sep 4, 2010

Teetering at the edge of old age, this wine is good but needs to be drunk immediately.
Ruby color with some amber at the rim. Right out of the bottle, the wine had a fantastic nose of smoky, rich gravel, tobacco, and rich plum juice, with a hint of eucalyptus. The mouth was not quite up to the standard set by the nose. High-toned, mature flavors of dried underbrush, iodine, and macerated red fruits. Drying finish. More austere in the mouth than the nose suggests. 90 for the nose with an 80 for the mouth. 85 overall. (Not sure where this is available, or how much it costs as it was a gift).