Write about Wine. Read about Life. WineWonks, the Wine Blog Community.
Date: Thu, Mar 6, 2014
This is a style of Bordeaux I like. Not trying to emulate a New World wine; structured, not overripe, not overoaked. It needs a few more years, however. It is: Merlot 85%, Cabernet Sauvignon 10%, Cabernet Franc 5%.

Dark black ruby. Nose closed at first, but on the second night it was showing lovely, subtle dark cherry fruit, and a dark, gravelly earthiness, along with a lifting baked cake note. Densely-fruited, but in a dry extract -- not jammy -- way, it packs the palate with dark fruit and loads of gravelly minerals. Full-bodied, with lots of fine-grained tannins. Still feels a bit tight. It's very good, if a bit youthful now, but will certainly improve over the next 5 years. B+now, probably higher later on. I'm not sure what this cost or where to get it around the DC area, as a good friend brought this wine to our Super Bowl party as a gift. Nice gift! Imported by Monsieur Touton Selections, NY.
Date: Tue, Mar 4, 2014
I haven't had this wine in 10 years or so. It used to be a ridiculous bargain. This one is still cheap, but it's thinner than I remember it being than the vintages I drank in the early 2000s. Eh.

Dark ruby violet color. Light intensity nose of raspberry and rock dust, with a teeny note of dried tarragon. Bone dry in the mouth, with slightly bitter raspberry/cherry fruit, and loads of rocky minerality. As it lingers it gets more bitter, and some medium-grained tannins show up. Not very concentrated, and the texture isn't great either. C. Was $7.99 from Winex.com. Imported by the Artisan Collection, NYC.



Date: Wed, Feb 26, 2014
This is a terrific value. Vibrant, loaded with fruit, and balanced. Buy cases of this to have on-hand for cookouts this upcoming summer (if it ever gets here).

Very dark, blackish ruby. Fantastically lively nose with loads of bright, ripe raspberries and mixed red berries, along with rock dust. The attack is intensely fruity, with excellent concentration. Lots of pure dark and red fruits in the mouth, turning a bit minerally as the finish progresses. A fair amount of soft tannin gives some structure. It's not complex, but it's very flavorful and nicely-textured. B+. Was $7.99 from Winex.com. Imported by Winebow, Inc., NYC.

PS, note that Bonarda in Argentina isn't the same thing as Bonarda in Italy. It's actually the grape called Charbono in this country.
Date: Mon, Feb 24, 2014
Organic! I like that. And it's a darn good Zin. Tangy tangy tangy. I wouldn't have been able to place it as a Napa Valley Zin if it had been served blind. But it's got lots of character, nice texture, and would be great with Italian or Portuguese meat dishes, or grilled beef.

Very crystalline dark ruby color. Exuberant nose was earthy and exhibited loads of tangy mixed red berries on the first night. The earthiness was much more subdued on the second night, but the tangy berries were even tangier, and mixed with some fresh-cut herbs. Round, vibrant, and dry in the mouth, with very nice concentration of fruit, full body, and pretty good acidity. It weighs in at 13.9% alc., which is very low for a Zin these days. Nice soft texture and good length. B+. Drink this over the next 1-2 years. Was $19.99 from Total Wine in Fairfax.

(I remember buying a case of 1979 Napa Wine Co. Zin as a close-out in 1983 or thereabouts for about $5 a bottle at Yankee Spirits in Sturbridge, MA, and passing it out to my family. That one was very nice as I recall. I have not had a wine from these guys since then!)

(Sorry: 2009 depicted.)
Date: Tue, Feb 18, 2014
Liracs always seem to me to be the lazy sibling in the Cotes du Rhone family. Never exuberant, usually laid back. Sometimes verging on boring. This wine needs significant airing, but after it gets it, it's pretty nice in a typical Lirac-ian low-key sort of way.

Very dark, rich-looking black ruby. The nose sucked on day one. Nothing there but dark scents. Like sniffing Darth Vader's helmet. On day 2 (under a Vacu-vin enclosure), it exhibited low-toned, medium-intensity, rich, sweet dark crushed berry fruit, along with significant crushed stone minerality. Soft, rich, and low-toned flavors of dark crushed berries and forest floor earthiness. A little iodiney quality in the finish. It's got loads of medium-grained tannin, but I wouldn't age it too much longer because as the second night wore on I detected some oxidation. So give it some air and then kill the bottle. B. Was $14.99 from Total Wine in Fairfax. Imported by Saranty Imports, White Plains, NY (which I think is Total Wine's importing arm . . . because why not take the middle man's cut yourself?).
Date: Sat, Feb 15, 2014
I have never had great luck with Vino Nobiles. They tend not to be great values, and I think many are basically clumsy relations of Chianti Classico. But this one, produced by a co-op in the region, was reasonably priced and has very nice fruit and balance.

Dark ruby color. Nice nose of macerated cherries, tobacco leaf, lemon zest, and gravel. Lots of dark cherry fruit in the mouth, with a hint of unsweetened cocoa powder and lots of stony minerals. Full-bodied, with loads of dusty tannins providing a nice framework for some additional aging. Bright acids keep it fresh. A touch of bitterness in the finish. Would be excellent with meat-sauced pasta. B+. Was $15.99 from WTSO.com. Imported by Superior Wines, Cranford, NJ.
Date: Sat, Feb 15, 2014
I love Etna Rossos. They have a unique purity of fruit. This one was very nice, with the purity thing augmented by a smoky note.

Medium dark ruby color. Bright, vibrant ripe cherry fruit on the nose, along with loads of stony minerality and the aforementioned smoky note. Bright, pure cherry fruit pounces in the mouth, riding a wave of fine-grained tannins, and there is a lot of clean minerality on the palate as well. It's a little more full-bodied than some other Etnas I've had. Medium long finish. A little loose, this would really kill it if it had just a touch more concentration. But it's a cuspy B+/A-. Was $15.99 from zachys.com. Imported by Cottanera USA, Saucelito, CA.
Date: Sun, Feb 9, 2014
I don't buy many Aussie Shirazes, and I've had way too many oaky, liquid jam-jars, but this one was billed as a leaner, more minerally exhibition of the grape, and it actually is. It's quite nice. Still identifiably Aussie, but stripped down.

Impenetrable black ruby, with a violet tinge. Loads of liquid, slightly saline dark minerals, cedar, and blackberry and cassisskins on the nose. Bone dry, dark blackberry extract and a clingy, iodiney streak in the mouth initially. Loads of soft tannin then announces itself, and the lean, concentrated flavor profile grows slightly riper and sweeter on the back end. Full-bodied, but not nearly overbearingly huge like some of its Aussie cousins. The finish is very long and linear. There is a lot going on in this wine. Really fine. A-. Was $14.99 from WTSO.com, making it a very good value. Would be outstanding with a juicy, grilled prime porterhouse. Imported by Precept Wine, Seattle, WA.



Date: Fri, Feb 7, 2014
I haven't had a Lagrein since the 1980s, I think. This one is beautifully balanced, a little tight at first, but then opening up in to a food-friendly good value. And this is yet another wine that was much better on the second night, so be sure to let this one breathe if you open it anytime soon.

Saturated, very crystalline blackish ruby violet. The nose almost reminds me of a young, unoaked Medoc, with loads of tightly-wound cassis and blackberry fruit and gravelly minerals. A little tight fist of youthful fruit punches the mouth on entry, but it's wrapped on a smooth-textured, medium-bodied package. It is not weighty, but has good concentration of fruit and a linear timeline in the mouth. Bone dry. Just a wee bit of soft tannin, and really nice, slightly mouth-watering acids make it feel fresh. The finish is very pure-tasting. Very nice. B+/A-. Was about $18 from Total Wine in Fairfax. This would be amazing with a basic Yankee Pot Roast. Drink over the next 3 years.
Date: Wed, Feb 5, 2014
This is a textbook Chianti Classico. And I got this for a song on sale (I bought a case for a price that netted out at $10.50/bottle, including shipping, from zachys.com on a close-out!). I am an unabashed fan of the wines from this estate.

Very black-tinged ruby. Lively nose of red berries, tangy rich cherries, and a whiff of dry, dusty gravel. Smacks the mouth with ripe, zingy red fruits, wine-soaked gravel, and stony minerals. Very nice acids and well-integrated soft tannin keep the mouthfeel interesting. Nice length. Just a pleasure to drink. It's textbook Chianti Classico, which means not only is it fun to drink but it also will go well with a wide variety of foods. B+/A-. Will keep for at least another 2-3 years. Imported by Massanois Imports, Washington DC.
Date: Mon, Feb 3, 2014
A big, deep, fruity, rich wine. A bit more complexity and it would have been outstanding, but as is, it's really nice.

Saturated black ruby/violet. Intense nose of ripe mixed berries and plums, along with wafts of sweet, high-toned smoke. Intense and pure in the mouth. Hits right away with weighty, dense ripe dark berry fruit and dark, gravelly minerals. Lots of weight, but not overbearing, the flavors tenaciously cling to the mouth. Very full bodied and moderately tannic. This wine does not skimp on flavor. A-/B+. Was $14.99 at Total Wine in Fairfax, VA.
Date: Fri, Jan 31, 2014
A straightforward, zesty, bone dry Cab Franc. Not a lot of depth, and just barely ripe enough, but it's got a lot of vivacity. It seemed thin and underripe on night one, but the second night it filled out a bit and was much more pleasurable.

Youthful medium ruby still with a hint of violet. The nose has classic Chinon scents of machine oil, dried fall leaves, and tart black cherry. You can smell the acidity that's about to hit you. Lots of barely ripe cherry fruit in the mouth, with a substantial streak of dried underbrush and minerals. Clean, medium-long finish with loads of acids, keeping it very fresh. I had it with fried chicken and it went very well. B, though if it had bit more depth I'd rank it higher. This was $12.99 at Total Wine in Fairfax, making it a pretty decent value.
Date: Wed, Jan 29, 2014
This is a chewy, extremely young wine. Lots of potential, but not nearly ready to drink. It really only opened up on the third night I had it open.

Saturated, youthful-looking black ruby. The first night, the nose was somewhat reduced but showed lots of ripe, raw dark berry fruit. On night three, the nose was still youthful and one-dimensional, but showed beautifully ripe dark cherry, plummy fruit and sweet, warm sandstone scents. On entry, there's loads of ripe dark fruit, very good concentration, and a wheel barrow-full of chewy tannin. The finish is long. Each of the three nights a little more complexity came through, suggesting a wine that would benefit from several years of cellaring. I'm going to try to forget about my other three bottles for at least a couple of years and then re-visit it. Right now, a B. In 5-8 years, maybe an A. If you do open it over the next 2 years, decant it in a wide decanter and pour it through a Vinturi to try to aerate it as much as possible. Was $24.99 from WTSO.com. Imported by Votto Vines, Hamden, CT.
Date: Sun, Jan 26, 2014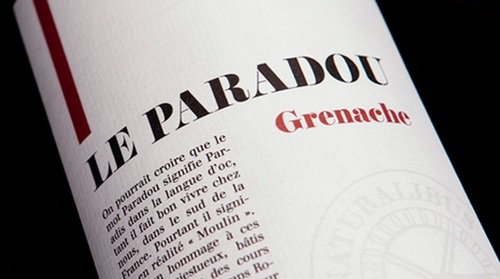 This is a very food-friendly everynight wine. It was actually like two different wines on night one and night two.

Very dark, nearly saturated ruby-violet. On night one, the nose was very typical of a wine bottled early without any oak aging -- tight, slightly reduced pungent berry extract. Night two (after being under a Vacu-Vin enclosure for 24 hours), it was much softer and loose-limbed, displaying richly fruity scents of blackberry, plummy juice, and a bit of rhubarb. A pungent, metallic minerally note was present too. Rich, concentrated enough, and bone dry in the mouth, with flavors of slightly dried raspberry skins and lots of stony minerality. Relatively full bodied, this wine had lots of soft tannin, and a very clean finish. There's no complexity, but it's got nice flavor and texture, and it avoids the high alcohol/low acid issue that is a risk with Grenache. B. I got mine for $9.99 from Zachys.com. Imported by IPO Wines, NYC.