Write about Wine. Read about Life. WineWonks, the Wine Blog Community.
Date: Tue, May 14, 2013
Liquid minerals! Terroir freaks will go ga-ga over this one. Actually, I did too. It's really fine.

Very dark ruby but still with significant violet highlights. Incredibly mute upon first being poured without a Vinturi, it was a little more forthcoming when I used the Vinturi. But it still needed an hour to start showing itself. When it did, however, it was really nice. Nose completely dominated by all manner of minerals: powdered stone, liquid metallic/iodiney, and lightly scorched earth scent. Under all that tectonic stuff was some ripe, oozy, sultry blackberry fruit. In the mouth, the flavors immediately migrate, as though drawn by a powerful magnet, to the sides of the tongue and mouth, and tenaciously cling there, showing loads of melted minerals and hard blackberry jam candy fruit. Loads of soft tannin and decent acids provide the structure for the full-bodied wine. Very long finish. A. I really like this very unique style. Was $18.99 from WineAccess.com. Imported by Fleet Street Wine Merchants.
Date: Sat, May 11, 2013
This widely available Toyota Corolla of reds is, as almost always, a flavorful, good value. Not the most fragrant wine, but delivers lots of ripe, concentrated flavors in a very soft, easygoing style. 60% Grenache/40% Syrah.

Nearly fully-saturated black ruby with still some violet glints. Reluctantly gives up subtle aromas of ripe blackberries and smoky sandstone. Concentrated rich fruit fills the mouth. Dark blackberry and scorched earth flavors. Loads of reasonably fine-grained (for a $12.99 wine) tannins. Long, clingy, if not very complex finish. This is a very good value. B/B+. Got this at Whole Foods in Arlington.
Date: Thu, May 9, 2013
This is a complex, leaner styled Burgundy. Fragrant, balanced. All it lacks is a little more oomph in the mid-palate.

Medium ruby color with garnet highlights, and some browning at the rim. With air, the nose reveals multiple scents: ripe yet slightly sour cherry, pleasantly subdued woody notes, damp, gravelly earth, maple syrup. Initially fills the mouth, then leans out quickly, but minerally, sour cherry syrup notes cling in the finish. A very nice wine to have with a roast chicken. Drink up over the next 18 months. B+. Imported by Chelsea Ventures, Chicago, this was $29.99 from Flickingerwines.com.
Date: Mon, May 6, 2013
A fleshy, meaty, soft, wine that is full of character and modestly priced. Fantastic cookout wine.

Dark blackish ruby with a slight violet tinge. Animated, ripe nose of meaty notes, ripe blackberries, and a combination of spice cake and warm crushed rocks and sandstone. Mouthfilling flavors, but fairly easy-going texture. Full body and lots of fine-grained tannins. Loads of pure blackberry skin fruit along with a very clingy, roasted herb/iodiney, minerals component that clings to the sides of the mouth. Long, pure finish. B+/A-. Was $12.99 at Whole Foods in Arlington/Clarendon. Imported by HB Wine Merchants, NY, NY.
Date: Thu, May 2, 2013
A deceptively easy-going yet potentially serious wine. Still very young, it is quite primary now but shows nice texture and very good length.

Very dark ruby/violet. Straightforward scents of ripe blackberry and black raspberry fruit, accented by notes of hot stones and dry underbrush. Soft, mouthfilling, ripe, and full-bodied in the mouth. Lots of incredibly fine-grained nano-tannins. Very nice concentration and length with loads of licorice, cassis, and minerals. This wine will by dynamite in 2-4 years. B+(+). Was $24.99 from WTSO.com, making it a very good buy for a Rhone wine of this aging ability and class. Imported by Citadel Trading Co., NY, NY.

(Sorry, 2001 label shown, but the 2010 looks the same.)
Date: Tue, Apr 23, 2013
A vibrant, fruity, direct Zinfandel. Not overblown. Very nice on its own or with dinner. A bit pricey though. Surprisingly, comes in a Burgundy-shaped bottle.

Dark ruby color. Intense, perfumey nose of spiced blackberries (like blackberry pie) and steely, stony minerals. Soft, balanced, and quite concentrated in the mouth, with loads of fruit and minerals, and very nice acids to boot. Full-bodied, with good length. No great complexity of flavors, but lots of character. B/B+. Was $21.99 from WTSO.com.

(Sorry, 2010 shown.)
Date: Thu, Apr 11, 2013
A full-flavored, juicy, dry, mouth-wateringly crisp rose. Not a lot of complexity or elegance, but it's balanced and fun. I think that the roses from this area comprise Pinot Noir, Gamay, and Pineau d'Aunis, but I'm not sure of which ones and in which amounts they're in this wine.

Gorgeous pinky/salmon color. Tons of fruit on the loud nose, watermelon, grapes, lemon juice, strawberry, cherry. A bit of minerality, but, mostly, this is about the fruit. Great acids keep this very lively. A great wine to have on hand for those May/June picnics. B+.

Imported by Kermit Lynch, I got this wine for $13.99 from B-21 Wines in Florida. Great buy!


Date: Tue, Apr 9, 2013
A quick note on this amazing wine, which I had at the relatively new French bistro in Houston, L'Olivier. In a word: amazing. One of the best CDPs I've had in a very long time. A solid A. Unbelievably fragrant, balanced, full flavored, and long. Sweet berry fruit, loads of garrigue scents. This is from memory, so sorry it's not more detailed, but if you see this wine, get some! At its peak right now. Will hold for 4-5 years.

BTW, the food at L'Olivier was excellent. Classic bistro fare, beautifully executed.
Date: Tue, Apr 9, 2013
Well, my sinus infection has finally subsided to the point where my sense of smell has returned. So I popped the cork on a Cotes du Rhone that turned out to be funky and have a lot of character.

Nearly fully saturated color -- black violet-tinged ruby. Funky nose, but in a Rhone-y way. Loads of faintly barnyardy earth, iodine, smoky gravel, and spicy black raspberry and black cherry. Big and flavorful, but with excellent acids, this wine has full-throttle flavors but not a whole lot of elegance. Ripe fruit, but very dry and minerally, with those liquid minerals clinging for dear life to the insides of your mouth. Long finish. B+.
Was a remarkable $12.99 from B-21 Wines in Florida. That's a great buy for this much character. Imported by Eric Solomon Selections.
Date: Wed, Mar 27, 2013
I have a bad cold, yet even through my severely compromised taste buds and sense of smell, I can tell this is dynamite. Unbelievably concentrated and long. Without being ponderous! Stay tuned. I'll do a more detailed post when I drink my second bottle. Or better yet, go get some right now. Was $18 from Winex.com. Imported by Eric Solomon.
Date: Fri, Mar 22, 2013
A decent, modestly-priced Bordeaux. 68% Merlot, 28% Cabernet Sauvignon, and some Cab Franc and Petit Verdot. Very shy and reserved now, it may well be significantly better in a few years.

Gorgeous color: deeply-saturated and luminescent ruby-violet. Very shy nose that reluctantly gives up a little whiff of brambly twigs, lightly charred oak, and cassis. But you really have to work the sniffing to get it. Tightly-wound flavors of lightly-scorched earth, minerals and a bit of cassis. Dry, tight, and with a fair amount of tannin. Medium full body, and pretty good acids. Pretty good length. This is a wine that needs at least 2-4 years of age to open up. Right now, it's a B-, but with potential to come in higher after it opens up. Got it on sale for $14.99 at Total Wine in Fairfax, VA. Imported by Saranty Imports, White Plains, NY.
Date: Mon, Mar 18, 2013
The is an outstanding wine and a ridiculous value. Loaded with dark flavors and with a nice sense of elegance. Apparently composed of very old vine (many over 100 years) Mencia.

Fully saturated, impenetrable violet-ruby. Intense nose of low-toned, ripe, black cherry, crushed dark stones, and smoke. Very dry, with lots of very fine-grained tannin, this wine immediately coats the entire mouth and the finish just hangs around and hangs around. The concentration of dark cherry fruit is remarkable, yet it's in no way over-extracted or too jammy. It's almost freakish that a wine this intense could have a sense of elegance, but this does. The acids are pretty low, but, again, the wine seems in perfect harmony despite this. This could probably improve over the next 2-3 years, but, really, why wait? A. Was $9.99 from WTSO.com. Imported by Classic Wines, Stamford, CT.
Date: Tue, Mar 12, 2013
Tasty, balanced, and cheap. A great weeknight dinner wine.
Bright, luminescent ruby color. Laid-back nose of ripe, raspberries and raspberry syrup, along with powdered stone dust. Fairly full-bodied, bone dry, with intensely minerally dry raspberry fruit along with a smoky, bitter-root thing in the finish. The bitterness at the end probably nixes this as a cocktail/party wine, but it went really well with Thai take-out.
B.
Was $8.99 from Total Wine in Fairfax, VA. Imported by Saranty Imports, White Plains, NY.
Date: Thu, Mar 7, 2013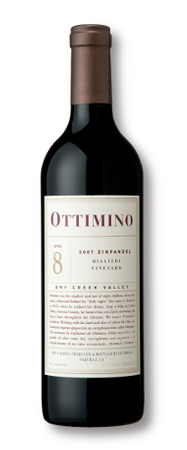 Of the three Ottimino Vineyard Zins I've had (the other two from vineyards in the Russian River Valley), this is the best. Ripe, but with claret-like structure. Really fine.

Very dark black ruby, with just a hint of lightening at the rim. Complex nose of pure black raspberry syrup, sandstone, and baking spices. Ripe, yet bone dry in the mouth, with nice structure and still quite a bit of soft tannin remaining. Lengthy, pure finish that goes on an unusually long time. Good acids yet quite full. This is one of the best Zins I've had in a long time. A. I got this over a year ago from WineAccess.com . . . but I don't remember how much I paid (sorry!).