Write about Wine. Read about Life. WineWonks, the Wine Blog Community.
Date: Tue, Mar 5, 2013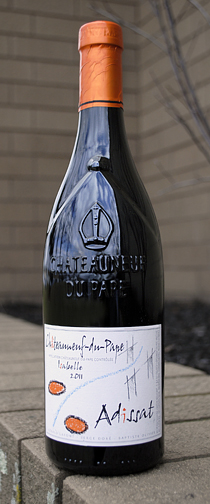 A simple, gutsy, large-scaled red. Maybe a couple of years will bring a bit more complexity, but right now it's like a big, gangly teenager.

Very dark ruby/violet. Intense, straightforward nose of black raspberry fruit, and smoky minerality. Huge and ripe in the mouth. More like a Spanish Garnacha or big Cali field blend than a CDP or anything else from the Rhone. Loads of soft tannin , and massive body. Lowish acids. I'd let this sit a year or two to lose its galumphy directness, but not much longer, as the alcohol is likely to start burning through the fruit. B.Was $26.99 from WTSO.com, which, given that this is comparable to a good $12 - $15 old vine Spanish Garnacha, makes this a poor value. Imported by Serge Dore Selections.
Date: Sun, Mar 3, 2013
Since I started blogging many years ago, I've come to appreciate Guigal's labels: very simple; no need to type out vineyard names, special cuvee names, or "vieilles vignes."

This wine is very good, if not rising to the level of his exceptional 2005 Gigondas, which still stands as the best Gigondas I've ever drunk.

Not-quite-fully-saturated black ruby color. Sultry nose of ripe plums, blackberries, iodiney/molten stony minerals and a hint of warmed sandstone and fruitcake. Mouthfilling, with mellow but intense, low-toned flavors of blackberry syrup and liquid minerality, along with a dark gravelly earthiness. Full-bodied, with lots of fairly soft tannin leaving the mouth a little puckery in the finish. This is drinking well now but will improve over the next 2-3 years (maybe a little more). Very classically structured. B+/A-. Was $17.99 from Wine Exchange in L.A., making it a good value.



Date: Sat, Mar 2, 2013
This is a fragrant, richly fruity, varietally-true Nebbiolo. It's drinking wonderfully now, but should improve over the next two years, and then hold nicely for a few more.

Medium ruby color with a distinct brickish tinge. Classic Nebbiolo nose of slightly sourish cherry and dried cherry, couples with some gravelly earthiness and a nice cedary streak. The fireworks really kick in in the mouth, where it's got that quiet but surprising power that Barolos can have. Tons of liquid minerals but they seem in harmony with the chokecherry fruit. Very full, but with no heat, and pretty decent acidity to keep things lively. Long, lip-smacking finish. Maybe not the most complex Barolo I've ever had, but a real treat. A-. Was $27.99 from WTSO.com a few months ago. Imported by Superior Wines, Cranford, NJ.
Date: Fri, Mar 1, 2013
This was a large-scale, flavorful if slightly inelegant white that reminded me of a highly-extracted, unoaked Maconnais wine like a St. Veran.

Sparkling dark gold color with a slight greenish tinge. Intense nose of ripe apples and a hint of peach, along with bags of crushed stone. Loads of flavor, mostly of slightly bitter apple skin and waves of clingy minerality. Very full-bodied with acidity correspondingly a tad on the low side. Very pleasant, slightly viscous texture. Bone dry. Long, bitterish finish. B+. It's not going to get any better, and should be drunk over the next 6 months. Was $14.99 from Total Wine in Fairfax. Imported by Marco deGrazia Selections.
Date: Thu, Feb 21, 2013
A terrific rosé. It's got fragrance, flavor, texture, and great vibrancy. No rosé I've ever had comes close to a good Sancerre rosé.

Light salmon/copper color. Great cherry/grapey/strawberry fruit aromas shot through with limestoney minerals. Soft, instantly flavorful and mouthwatering upon entry. Loads of crisp fruit flavors are balanced by saliva-inducing acids and great, clean, high-toned stony minerals. Hard to stop drinking this one. A. Was $21 from WineAccess.com Imported by Fleet Street Wine Merchants.
Date: Thu, Feb 14, 2013
A very nicely-balanced, nicely-composed, and fairly complex Rioja. Elegant, flavorful, and ready to drink. But it should also keep and improve for at least 3-5 years. It's not really traditional style, but neither is it in the stereotypical modern style. Most important, a great value.

Vivid, deep ruby color. Somewhat shy but very nice nose of ripe blackberries and cassis, along with warm, sweet sandstone scents, and an unusually deft and subtle note of sweet vanillin from the oak-ageing. In the mouth, it's flavorful and ripe, with full body and lots of soft, fine-grained tannin. Medium-pitched berry and cassis flavors with a clean streak of minerality running through it. There's a little sweet toastiness from the oak, but it's joining the chorus of flavors rather than trying to take the lead. Very nice acidity keeps it lively and keeps inviting another sip. A-. Was a remarkable $12.99 from WTSO.com. Imported by Classic Wines, Stamford, CT.


Date: Mon, Feb 11, 2013
A nice, very soft, fruity, weighty, varietally-true Grenache. The only complaint I have -- and it's a minor one for a $9.99 bottle -- is a just barely perceptible bit of residual sweetness.

Inky ruby-violet color. Open and inviting nose of oozing raspberries, plum jam, and some clean, stony minerality. Mouthfilling, richly fruity, and full-bodied, this offers loads of ripe plummy, raspberry fruity, leaving behind a vaguely bitter-tinged liquid rock taste at the very end. Low acidity. As I said, it's got a barely perceptible bit of residual sugar, and it's pretty simple, so this gets a little tiring to sip on its own, but it's a nice accompaniment with casual weeknight fare (it went well with a simple roast chicken). B. Was $9.99 at Total Wine in Fairfax. Imported by The Country Vintner, Ashland, VA.
Date: Sat, Feb 9, 2013
Dirt cheap and very good. A great weeknight dinner choice. Simple but varietally true and satisfying.

Fully saturated black ruby/violet. Straightforward scents of ripe, sweet, perfumey blackberry and a nice classic Mourvedre (Monastrell) scent of tree bark. Lots of oomph entering the mouth, with loads of smoky blackberries, full body, some nicely integrated if not super-soft tannin, and surprisingly good acidity. A bit of heat, but not intrusively so, on the finish (which is long and fruity). B/B+. Was only $7.99 from B-21 Wines in Florida, but it's pretty widely available (including being available at Total Wine in Fairfax at the same price). Imported by Jorge Ordonez Selections.
Date: Sat, Feb 2, 2013
A really good, large-scaled, ambitious Côtes du Rhône that thinks it's something more important. Dark and extracted, but nicely-balanced at the same time. Apparently it's an unfiltered 50/50 Grenache/Syrah blend.

Completely saturated black ruby-violet. Interesting and atypical nose, with lots of smoky, iodiney minerals, and a thing that alternately reminded me of either roasted herbs or a big pan-full of sauteed spinach with garlic and olive oil. And some blackberry skin fruit in there too. Mouthcoating flavors of iodine, blackberry, and faintly bitterish minerals, with a long finish that clings and clings. Some fine-grained tannins for physical structure. Very good acids for a wine this large-framed. Basically, tastes like a very good Gigondas. B+. Got this for $12.99 from B-21 Wines in Florida. Excellent value at that price point. Imported by Eric Solomon/European Cellars.
Date: Thu, Jan 31, 2013
A young wine that needs a lot of air to show its stuff. Definitely on the darker, more-extracted end of the spectrum.

Impenetrable, fully saturated black black black ruby. The first night the nose was very scorchy and burnt, showing zero fruit. I was unimpressed and put the Vacu-Vin on it. The next night was a different story. Still smoky and low-toned, but oozy-ripe raspberry syrup fruit was insinuating itself into the equation. Very full-bodied and a bit hot in the mouth, with a somewhat coarser texture than expected for a Grenache. Clearly the winemaker was going for intense extraction here. I prefer Grenaches with a more fluid, less macho feel. Still, it had a lot of low-toned berry and scorched stone flavors. Low acids. It's a B-, but only if you can appreciate this intensely ripe, ambitiously-extracted, massive style. If you don't, it's just a heavy mouthful of bricks. Imported by Eric Solomon-European Cellars. $8.99 from B-21 Wines in Florida.
Date: Mon, Jan 28, 2013
This was a fantastic white. If I had tasted it blind I would have thought it was a young premier cru Chablis. Ripe, cleanly minerally, and crisply refreshing. Excellent value.

Light gold color. Enchanting nose of ripe apple, ripe pear, nose-tingling lemony acids, and crushed seashell minerality, along with a hint of that Burgundian earthiness that frequently, in the whites, reminds me of dried hay lying around a barn. Absolutely refreshing in the mouth. Concentrated flavors, yet light on its feet, with a linear, lemony streak through the apple/green apply fruit, and a bolt of chalky, seashelly minerality follows through from the nose to the mouth. Soft texture. Brilliantly clean, lengthy finish. I know it's just a Macon, but I have to give it an A. Was $14.99 from WTSO.com, making it a steal. Imported by MHW, Ltd., Manhasset, CT.
Date: Sat, Jan 26, 2013
Tight, tight, tight! This wine is very youthful and tightly-wound, but contains all the elements to become a very good Pinot in 2-4 years.

Bright medium ruby with the beginnings of some garnet. Very shy nose (even when poured through a Vinturi). Just a few subtle scents come through: crisp, just-picked cherry and stony minerals, with a lifted floral element. Bone dry, crisp (mouthwatering acids) and lightly tannic in the mouth. Fairly full body. Lots of cherry-skin fruit and lean, stony minerals in the mouth. Clean, medium-long finish. This just needs time to shine (at least a couple of years). For now,B. In a few years, probably higher. Was $24.99 from WTSO.com. Imported by MHW, Ltd., Manhasset, NY.
Date: Sun, Jan 20, 2013
This is excellent. Shows classic Nebbiolo character, in a medium-bodied, soft, and ready-to-drink style. I'm glad to see this old-line producer (whose Spannas from the 60s and 70s are legendary) is back on line.


Medium ruby-garnet. Fragrant nose, with textbook winey cherry/dried cherry fruit together with a nice mildly mushroomy, earthy underbrush component. Focused, vibrant, earthy-cherry fruit in a bone dry, medium-bodied format, with excellent, zingy acids and just a barely discernible bit of tannin becoming noticeable in the finish. B+. I don't know how much this cost, since my brother gave it to me, but it seems to be selling in the $14 - $18 range from various retailers I've seen on the Internet, which would make it a very good value. Imported by Michael Skurnick Wines, Syosset, NY.
Date: Fri, Jan 18, 2013
A deep, soft, sultry Cotes du Rhone from a producer much better-known for its excellent and reasonably priced Chateauneuf. It's 70% Grenache, 20% Carignane, and 10% Syrah. For those who like their Cotes du Rhone to show lots of vibrant, earthy raspberry and/or blackberry fruit, this is not your wine. It's on the lower-toned, chocolately end of the scale. But expectations aside, it's quite good.

Saturated black-black ruby color. Somewhat aloof, low-toned nose of dark chocolate, blackberry skins, loamy sandstone, and slow-roasted herbs and meat. Weighty and soft in the mouth, it's very full-bodied, low in acidity, and shows loads of chocolatey, minerally flavors. Lengthy finish. Not my cup of tea, so for me it's a B-,but those who like this style will undoubtedly rate it higher. Was $19.99 at Total Wine in Fairfax. Imported by Saranty Imports, White Plains, NY.