Write about Wine. Read about Life. WineWonks, the Wine Blog Community.
Date: Sat, May 29, 2010
Had two very good and very different Zins at Abe & Louie's in Boston last week. The 2007 Storybook Mountain "Mayacamas Range" was more forward than I expect from this winery, which made its reputation making crisp, tight Zins that needed bottle age to round out. It had very bright, focused, and pure Zinfandel fruit (ripe cherry and blackberry), but was very soft and drinkable, with a bit of residual sugar noticeable. The 2007 Ridge Geyserville was more subdued and low-toned, with more complexity and a no residual sugar by contrast. Both very good. Not sure which I preferred. I would probably rate both in the upper 80s.
My strip steak was just a bit beyond the medium rare I asked for, but was still flavorful and juicy.
Date: Sat, May 29, 2010
This was a very good, but somewhat atypical Zin. I thought it seemed more like a large-scaled, rich Bordeaux from Margaux or Pessac (Graves).
Laid-back darkish ruby color. Complex nose of smoky gravel, dark fruitcake, rich, ripe plums, and a bit of blackberry. Soft, deep, and low-toned flavors of baker's chocolate, really ripe plums, sandstone, and smoky minerals. Very full-bodied, with a bit of peppery heat from the alcohol (label says 14.4%), and some chewy tannin in the finish. Definitely at its peak. It was very good, and I'm certainly no winemaker, but it seems to me this would have be ridiculously great if the grapes were picked just a tad earlier, and the wine had a bit less heat and a bit more acidity to focus it. As it is, I'd say it's an 89. Was $26 at Spec's, I believe.
Date: Wed, May 19, 2010

Another winner from this upscale producer. Classic Macon nose, flavors, and minerality.
Very light gold with light greenish glints. Fantastic nose of crisp white grapes, powdered stones, sweet minerals -- and I could swear there's the barest hint a hint of cinnamon back in there too. Crisp, yet full-bodied, with lots of body and a decent dollop of tangy acidity. Loads of lemony, green apple fruit, good weight and balance too. Not the most complex white burgundy, but a lovely and textbook example of what Macon should be (it should be a poor man's Chablis).
88
. Imported by Becky
Wasserman
Selections. Was $19 (and worth it) at Spec's on Richmond.
(Sorry, 2007 shown.)
Date: Wed, May 19, 2010

Disappointing for a wine from this vaunted plot of land. As I picked this out, one of the guys at Spec's on Bissonnet off-handed commented to me that the "wine guy" wasn't too impressed with this, but I blew off the comment, since I usually don't listen to random wine store employee recommendations. In this case, that was a mistake. It was decent, but not near worth 30 smackeroos.
Rich, violet-tinged dark ruby. Animated, deep and sweet nose of almost overripe, oozing blackberries and raspberries, with a barest whiff of sandstone. Broad, fat, low-acid flavors of simple dark raspberries that immediately coated the palate, faded a bit, and then re-appeared in a fairly long, metallic/minerally, slightly hot finish. Good, with lots of flavor, but a little flabby and simple. I expect Zins from Monte Rosso to have great structure and lots of minerally complexity. This tasted like it came from very ripe fruit grown on young vines.
86
. Was $31 at Spec's on Bissonnet.
Date: Wed, May 19, 2010

I don't believe I have ever had a wine made from the Mencia varietal, but if this is any indication of how they taste, I will look for more. A fruity, weighty, smooth good value.
Dark ruby with purply highlights. Fragrant and fruity, this wine's nose oozes rich berry sap scents, along with a scorched earth note. Enters the mouth with wonderful softness and weight, with a tight core of minerality and loads of ripe berry fruit. Full bodied, with a long, clingy finish. A wee bit o' tannin too. Mineral "tang" at the very end. Not super complex, but a satisfying mouthful.
88
. Was $13 and change at Spec's on Richmond. Imported by Jose Pastor Selections (an up-and-coming Spanish importer).
Date: Sun, May 9, 2010
Salice Salentino is an appellation in the heel of Italy's boot that has long produced well-balanced, well-fruited reds at reasonable prices. This is one of the best -- if not the best -- I've had.
Sultry dark ruby. Incredibly sweet, ripe nose, featuring oozing blackberries and super-ripe plums, baking spices, and sweetly-smoky embers. Round and soft in the mouth, with very good concentration, but also with nice balance. Fairly full bodied. Not completely dry, with just a touch of sweetness (although those used to drinking California Chardonnays will think it equally dry). Ever-so-lightly-pruney flavors of blackberry syrup, and dry, gravelly minerals. The finish features some significant, but soft, tannins, and a very small bit of peppery heat.
Now that I'm looking at these notes, they really don't reflect how much I enjoyed this wine. Don't be put off by some of the adjectives I used -- just buy a bottle.
89. Was $12.99 at Central Market. Imported by Small Vineyards.
(Sorry -- can't find a photo).
Date: Sun, May 9, 2010

German Pinot Noir! German, for Pete's sake! And it was fun and tasty. Not to mention a unique conversation piece. And no, Pinot Noir (a/k/a Spatburgunder) is not something the Germans started growing because they thought Sideways was a cool movie. It's been grown there for many decades. Put a light chill on this 1 Liter bottle and bring it to a cook-out.
Very light ruby garnet. Spritely nose leaps out of the glass with sweet/sour cherries and smoky minerals. You can also almost smell the crisp acidity that follows once you take a sip. Bright, almost prickly mouthfeel. Really nice fruit/acid balance. Soft, tanninless texture, with refreshing cherry fruit and a minerally finish. 87. Was $19.99 for a liter bottle at Central Market (so that makes it "under $15" per hypothetical 750ml). Imported by Terry Thiese (top-flight importer of German wines). Drink this year to enjoy the freshness.
(Sorry, 2006 pictured)
Date: Sun, May 2, 2010

A very well-done, full mature Ripasso.
Mature color. Dark garnet with rust highlights. Closed nose at first, but run through a
Vinturi
it displayed a complex bouquet of roasted meat, macerated dried cherries, licorice, and smoky pecan wood. Rich, low-toned, peppery flavors initially, with brandy-soaked plums; then lightening into earthy cherry/licorice flavors. Long, dry finish. At its apogee right now despite substantial tannin. Very distinctive and nice. Drink before 2010 is up.
89
. Was $18 at Spec's on Smith.
Date: Sun, May 2, 2010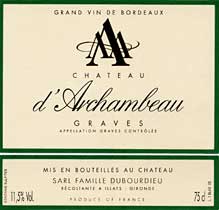 A solid, workman-like red Bordeaux at a decent price.
Jet black ruby with the bare beginnings of brick at the rim. Fairly closed nose, even with air time and being poured through a
Vinturi
. Light intensity aromas of cassis, toasted oak, resin, and scorched earth. Broad mouthfeel, with medium-fine-grained tannins present throughout. Ripe but bone dry flavors: dry, dark blackberry, smoky gravel. Long, interesting, though not particularly soft finish, with a slightly bitter, scorched edge. Elegant is not a word that describes this wine, though it was pretty satisfying in an unpolished way.
85.
Was about $15 at Spec's Warehouse on Westheimer and Commonwealth.
Date: Sun, Apr 25, 2010

A really nice, balanced and refreshing unoaked white from an arid, hot region more known for its gutsy reds.
Light, bright, brassy-gold.
Ripe, deep, tropical fruit-laden nose, with pineapple, banana, and notes of peach and lychee nuts. Dry and refreshing, with lots of pear fruit in the mouth, and a light, clean, stony minerality. Squeeze of lime at the end. Surprisingly well balanced, flavorful, and a great accompaniment to New Orleans "Barbequed Shrimp" (
recipe
).
88
.
Was $11 and change at Spec's on Smith, making it an excellent buy. Imported by Weygandt-Metzler.
Date: Sun, Apr 25, 2010

A unique (totally organic) Cabernet Franc from this idiosyncratic appellation. I liked it, but it's not a wine for the masses.
Black garnet with ruby highlights.
Day 1 the nose had loads of farm-fresh, sweet manure scents amidst smoky machine oil and tangy forest berries. Day 2 was much more normal, with lots of crisp cherry fruit and minerals. So give this guy plenty of air if the manure thing isn't for you.
Bone dry in the mouth, but with lots of lean flavors of dry cassis extract and mineral oil. Long, lean finish, with medium body and very good acidity. 86.
Was $17 and change at Spec's on Smith several months ago, so I don't know if they still have it. A Louis/Dressner Selection.
Date: Sun, Apr 25, 2010

A very nice, pure-tasting Spanish Grenache. (Astute readers have deduced by now that I am partial to Grenache-based wines, as I feel they tend to go well with a lot of the dishes my wife Liz and I cook.)
High-toned, yeasty raspberries on the nose, with notes of powdered stone and a squeeze of lemon.
Lots of clean, ripe fruit in the mouth -- raspberry and crisp cherry -- with a liquid mineral streak. Fair amount of tannin. Not a lot of depth in the mid-palate, but nicely-balanced and clean. 87.
I have a vague recollection I got this at Central Market a few weeks ago, and that it was around $15. But don't quote me on that. Imported by Partick Mata at Ol
é
Imports (a really good, young importer of generally zesty-styled Spanish reds).
Date: Sun, Apr 25, 2010

A really nice, classic-style Beaujolais from the higher-falutin' appellation of Fleurie.
Light ruby color.
Classic nose of crushed stone-infused bright cherry candy and grapes. Good weight, full body, with aggressive yet soft flavors -- lots of stony minerals, crushed sea shells, and an intense streak of dry cherry extract. Good acidity provides nice lift. Textbook cru Beaujolais. 88.
Got it online at Zachys.com for $22. Imported by Louis/Dressner Selections (one of the best).
Date: Sun, Apr 25, 2010
Another cheap and good Grenache from Spain.
Dark ruby color with violet highlights.
Gangly nose of crushed raspberries and rhubarb, laced with cinnamon-scented powdered stone.
Full-bodied, with decently-concentrated, low-toned fruit on initial entry, segueing into a crisp, minerally, slightly tannic finish. Lots of character, if not elegance, for this bargain basement price-point. 87. Was $7.99 at World Marketplace on Richmond neat the West Loop.