Write about Wine. Read about Life. WineWonks, the Wine Blog Community.











The 4th annual Earth Day Food & Wine Festival is a weekend celebration at locations throughout the Central Coast.


After spending several days in the area exploring sustainable wines and organic foods the best way to finish off the weekend was at the feature event held at the historic Santa Margarita Ranch where over 200 purveyors of award-winning, sustainably produced food and wine show off their best.

Growers, vintners, and chefs all came together to serve delicious, one of a kind dishes made with locally sourced fruits, vegetables, meats, cheeses, olive oils, and more to the guests . This was a great opportunity to enjoy live music, a silent auction, unlimited samples of local cuisine, and meet the farmers who grow great food and wine while nurturing a healthy environment.











The Earth Day Food & Wine Festival is a benefit event that supports farmworker education and sustainable ag research conducted by the Central Coast Vineyard Team (CCVT), a 501c(3) non-profit organization. The Central Coast Vineyard Team is a collaboration of 300 growers, wineries, consultants, researchers, and natural resource professionals dedicated to promoting sustainable winegrowing on California's Central Coast.

The Earth Day Food & Wine Festival backs up what it preaches with its commitment to host a zero-waste event. In 2009, the event generated only two bags of trash for over 1,000 visitors.
The food provided by local chefs and farmers was served on and with recyclable and compostable plates, bowls, forks, and spoons. Appropriate disposal containers, provided by San Luis Obispo Integrated Waste Management Authority, were accessible throughout the event. A team of volunteers wondered the site during the event , managing the recycling and compost project.

A plastic reduction policy is in place as well. Guests were asked to drink water from their commemorative wineglass. Even event's program is produced using post-consumer recycled content and the entertainment stage is solar powered, compliments of Pacific Energy Company. Ticketholders who carpooled with four or more in a vehicle received premium parking, in addition countywide shuttle service was available to further reduce traffic created by the event.
The SIP certification takes alot of work and commitment from the vineyard owners . In order to qualify for vineyard certification, growers must farm in a way that protects both natural and human resources as outlined in the rules, otherwise known as the Standards. Not only do growers have to achieve and document 40 requirements, but they must earn 75% of the available points through implementing additional management enhancements to qualify for certification. Finally an independent inspector verifies a grower's responses and practices through an in-depth records and on-site audit.
The special site for the Earth Day Food & Wine Festival was chosen for it's unique and rustic ambiance. Participants and visitors alike could not help but enjoy this intimate event at a very special rural location.
The Santa Margarita de Cortona Asistencia was established in 1787 as an asistencia ("sub-mission") to
Mission San Luis Obispo de Tolosa
to minister to the large number of Chumash (Obispeño) Indians who inhabited the area. Named for an Italian saint, the settlement was located at the top of the Cuesta Grade (north of
San Luis Obispo
) on a site selected by Father Presidente Junípero Serra in 1772. The facility also served as an outpost, chapel, and storehouse. In April, 1889 the town of
Santa Margarita
was founded. The former rancho lands today are under the ownership of four families. Several of the original stone walls remain standing, having been incorporated into a ranch barn.
The 4th Annual Earth Day Food & Wine Festival was a fabulous success. Everyone who visited the Central Coast and supported the area's sustainably produced, award-winning food and wine and that benefits all of us. Our hats are off to Kris O' Conner and the Central Coast Vineyard Team for a great event and for letting us " SIP the good life "
For more information on the Central Coast Vineyard Team and SIP please visit
www.vineyardteam.org











The annual Santa Barbara County Vintners' Festival Weekend attracted wine lovers from all over the country for an opportunity to meet member vintners, taste their wines, and enjoy great food and music over a long spring weekend.















Within Santa Barbara County there are four distinct appellations: Santa Maria Valley, Santa Ynez Valley, Sta. Rita Hills and the newly approved Happy Canyon.

In addition, the Los Alamos Valley region, between the Santa Maria Valley and Santa Ynez Valley appellations, remains a strong and successful grape growing region. Slightly less than half of the grapes grown in Santa Barbara County are used by local vintners, with the balance are exported to wineries outside the area.











Breathtaking valleys and mountains studded with ancient oaks, brilliant wild flowers and magnificent vineyards are always the scene when you visit Santa Barbara County.


Before the festival a leisurely country drive allowed us to fully appreciate the winemaking experience as we transversed the valleys and sampled some excellent wines.


The Santa Barabara County Vintners Festival is a wonderful discovery for any wine lover and foodie alike. You'll find great restaurants, galleries, country inns and exceptional tasting rooms located in the small towns of Solvang , Lompoc , Santa Ynez , Los Olivos and Santa Barbara itself.













In the cellars this time of year, winemakers are bottling their first whites and pinks from the 2009 season, as well as their red wines that ready from previous vintages. You can feel the excitement in the air as they wineries are anxious to show off their latest creations.




As most wine people would agree that great wine starts in the vineyard with great grapes. This area has been blessed with an excellent climate, soil and topography that is unique and you can taste that signature in the wines. Santa Barbara County's winegrowers bring modern growing methods to the age-old art of viticulture and produce some of the finest wine grapes and wines in the world.








The wines of Santa Barbara County have always been the main attraction of this area. However , Las Vegas's own Bradley Ogdan has come to town with his restaurant , Route 246. Chef Bradley himself was at the festival treating us all to a few of his great dishes.





The property that's now home to Root 246 was known for years as the Meadows Restaurant. When the Santa Ynez Band of Chumash Indians purchased the Meadows in 2007, the tribe looked to transform the old restaurant into a contemporary elegant dining destination unlike anything the region has ever seen.

The tribe hired Chef Bradley Ogden. This award-winning chef enjoys a phenomenal track record as a restaurateur, having successfully launched and overseen the creation of several critically-acclaimed restaurants. Chef Ogden's expertise should help ensure that the tribe's new venture in Solvang will meet the high level of quality guests have come to expect.




Whether it's wild asparagus from Santa Ynez, or fresh spiny lobsters from Santa Barbara, Root 246 is has brought a whole new type of dinning experience to the area and serves their guests the finest produce and proteins the region has to offer.




There are so many great wines made by big names in the industry such as Ken Brown , Doug Margerum , Kenneth Volk and Kris Curran just to name a few we could literally write a book about each one of them. We try to not only sample their wines but are always searching for others that we feel stood out along with the great wines of the area.




Ampelos Cellars is always a stand out that we look for when in the area. Peter and Rebecca Work are firm believers in the old adage that the "wine is made in the vineyard". Their estate vineyard has been planted to those varietals that showcase the location, soils and climate of their vineyard . The varietals Ampelos has planted are Pinot Noir, Syrah, Grenache and Viognier.

In addition to their estate grapes, Ampelos continues to produce wines from fruit sourced from other vineyards in Sta. Rita Hills, FiddleStix for Pinot Noir and Quatro Vientos in Santa Ynez Valley for Viognier and the Syrah for their rosé .

In addition to legendary wines and winemakers the landmark Hitching Post Restaurant was also showing off what has made them famous in the culinary world.
The Buellton Hitching Post was established in 1986, but their roots started at the Casmalia Hitching Post in 1952. It was there that Frank & Natalie Ostini brought "Santa Maria Style BBQ" to its peak of perfection and where children Bill, Bob, Terri & Annette continue to this day.
At the Hitching Post II in Buellton, they honor that tradition and also embrace contemporary cooking styles. By combining the old and new, they have created exciting cuisine that is uniquely their own.

Along with their outstanding steaks, ribs and chicken, they serve items such as smoked duck breast, ostrich, home-made soups and outstanding pastries; along with what the Los Angeles Times has called the "best" French Fries in Southern California.

They are also one of a very few restaurants creating their own wines for sale in
the restaurant and to the public. Hartley Ostini Hitching Post Wines have garnered an excellent reputation.
We are always on the "look out " for new wineries and talented winemakers. One of those wineries that is beginning to make a big name for themselves is Dragonette Cellars . Dragonette is a partnership between brothers John and Steve Dragonette and close friend Brandon Sparks-Gillis who joined forces in order to pursue a mutual, long held dream to make wine in the Santa Ynez Valley.
Utilizing their contacts with excellent growers and viticulturists, they obtain fruit farmed for low yields and high quality from optimally located sites throughout the Santa Ynez Valley . In the cellar, they personally attend to each wine operation, from fermentation in small lots to aging in the finest French barrels . They believe this level of attention and focus markedly increases quality. We have meet these very talented partners on numerous occasions over the years. They are passionate and committed to producing small lots of ultra-premium Pinot Noir, Syrah and Sauvignon Blanc. Dragonette is a winery we will continue to watch .

We had the opportunity to visit Lafond winery in the past and were impressed with their estate wines. Lafond produces Pinot Noir, Syrah and Chardonnay at the estate winery in Sta. Rita Hills. The estate vineyard was first planted in 1971. Winemaker Bruce McGuire was one of the pioneers in the development of Pinot Noir and Syrah in Santa Barbara County and in California.
Bruce controls the total process, from the selection of varieties and clones to plant in the vineyard, to farming practices, cultivation, pruning and when to pick. Accordingly the wines reflect his style and philosophy of winemaking.
Jaffurs Wine Cellars is a well known and respected winery dedicated to producing great Rhône varietal wines . Their Syrah, Grenache, Petite Sirah, Viognier, and Roussanne - are among the best in the county.
The wines are carefully made in small lots and only about 3,000 cases are produced each year . They work closely with growers in the Santa Ynez, Santa Rita, Los Alamos, and the Santa Maria growing regions and limit vineyard yields and require that optimal farming practices .
In addition to new wineries the festival also treats is guests with legendary wine makers in attendance as well. One of those very special renown wine makers that is always pleased to show off some of the best wine in the country is Kathy Joseph .
Kathy established Fiddlehead Cellars to capture the pure essence of the two grape varietals that she loves best – Sauvignon Blanc and Pinot Noir. Kathy continues to passionately pursue her goal of creating stylistic Sauvignon Blancs and silky, intense Pinot Noirs.
Of course the main event is the festival that features the wines of the 130+ member Association, live music, a silent auction and wine country cuisine by the area's finest chefs.
The wineries also host events all throughout Santa Barbara Wine Country starting on Friday with tastings of library wines or barrel samples, vineyard barbecues, winemaker dinners, wine & food pairings.

The best way to experience this wonderful region is to make it a 4 day weekend and enjoy the best Santa Barbara County has to offer. The SBCVA now has seven times the membership they had in 1983 and twice the number of AVAs. This region has grown significatly over the years and is probably best known for its diveristy as 60 different varietals are planted there.
This is one event that we mark on our calender every year and know that we will be coming back again and again. For more information about this world class area for Wine and Food please visit
Santa Barbara County Wines
See you next year in at the 29th Festival for another great experience. Experience the Festival with Elaine and Scott from VINO LAS VEGAS as they show you what a wonderful event this is.












ampelos is a Greek word meaning "vine".

We watched Ampelos Cellars grow over many years and they have obtained a reputation nationwide for quality , sustainable , organic wines .


Located in the Sta Rita Hills , Ampelos Cellars has the climate to produce outstanding Estate grown wines from Pinot Noir to Vionnay.











On a recent visit to the Santa Barbara County Vintners Festival we spent some time at the Ampelos Ranch and took a walk through their 82 acre vineyard with Peter Work.

The morning started like most mornings in the Sta Rita hills with thick " Sea Smoke " and cool temperatures hanging over the vineyard until late morning when the sun burns through the thickness and temperatures rise. This daily routine from nature helps to produce some of the best Pinot Noirs in the country.



It was a surrealistic beginning to our morning with a single Red Tail hawk circling above , dogs herding sheep on a near by hill as we were being escorted by Peter's own Chocolate Labrador Retrievers as we started to explore the vineyard.








Peter explained Ampelos was selected to be one of the first vineyards in California to participate in the Certified Sustainable Winegrowing pilot program, and is very proud to have met the guidelines of the program and gained this prestigious certification. He went on to explain that Ampelos practices and promotes biodynamic farming in the vineyard.




Biodynamics embraces all aspects of organic but takes the notion further by holistically treating the entire vineyard as a living organism. It is as much a philosophy of life as it is a farming method, which is why it has influenced the thinking of so many who initially explored the concept only because they wanted to grow better grapes. Not only has it changed the way Peter and Rebecca grow grapes, but it has gotten them to think more about the importance of balance with nature, the land and farming practices.


Peter also added that they are concerned about the environment and try to employ as many environmentally friendly practices in the winery and in the vineyard. They plant fava beans and sweet peas as part of their cover crop in the vineyard which improves the soil as well as provides an environment for insects. They avoid letting the skins, stems, seeds and lees go down the drain in the winery and instead carry it back to the vineyard for composting.


They also do most of the work in the winery by hand or by using gravity thereby reducing then need for power. They press our grapes in a basket press by hand and only pump the wines once during their 16 months in the cellar. All of this minimizes the electricity they use. Even the vineyard and home are solar powered.

Ampelos vineyard is at the eastern end of the Sta Rita Hills appellation which is cool-climate area that is perfect for growing Pinot Noir and Syrah.

The vineyard is one of the few vineyards that gets the cool breeze from the Santa Rita Hills as well as the Santa Rosa Hills.






After learning about the hands on work that Peter and Rebecca put into every aspect of their vineyard it was now time to find some cool shade , have some lunch and try some of these award wining wines . With the vineyard dogs guiding the way we found the perfect place right in the middle of the vineyard.




The Ampelos Viognier , Santa Ynez Valley 2009 was a perfect wine to start off with after our walk. It's refreshing citrus notes of lemon came through with a nice balance of acidity and a lingering finish.




Another stand out for us has always been the Ampelos Rose of Syrah. Their 2009 Rose of Syrah Santa Ynez Vally did not disappoint with a lovely pale rose color in the glass made in the old world provencal style.


Of course we could not leave without enjoying the Lambda Pinot Noir , Sta Rita Hills Ampelos Vineyard 2005 and the Rho Pinot Noir , Sta Rita Hills Ampelos Vineyard 2006 .






Both of which have won awards and are highly acclaimed.In addition to their lovely Pinot Noirs , The Gamma Syrah Sta Rita Hills Ampleos Vineyard 2006 and their own very special Syrache, Santa Barbara County , 2006 which is their own very unique blend of Syrah and Grenache that has made a name for it self on its own right.

Peter and Rebecca Work and an incredible story that has taken them on a journey from high levels of the corporate world to their Ranch in the Sta Rita hills . When traveling in Santa Barbara County, Ampelos Cellars winery in Lompoc is a must stop. For more information or to schedule a visit please visit http://www.ampeloscellars.com

Join Peter and Elaine and Scott as they take a walk through the Vineyard and talk about sustainable farming.











It is not often that we can see a winery "born" and be able to follow their progress over the years from literally "the ground up ". VINO LAS pre-view of one of the newest wineries in the central coast before the big public opening. NINER Wine Estates in Paso Robles , California.


After nearly ten years of planning, preparing, and just plain hard work , the newest addition to Paso Robles' west side wine community will open May 1st to the public.


Construction began for the elegant stone barn tasting room and state-of-the-art gravity flow winery on the Heart Hill property on the west side of Paso Robles on seventy acres of vines surrounding the winery with the first phase beginning in the spring of 2007.
The inaugural vintage was released in January of 2006. Varietals currently include Sauvignon blanc, Barbera Rosato, Barbera, Sangiovese, Syrah, Merlot, Cabernet Sauvignon, Petite Sirah, an Italian blend and a proprietary red blend called Fog Catcher.
Dick Niner had the vision of this state of the art facility over many years. He investigated buying several vineyards and wineries, both for himself and other investors and came to realize the potential of Paso Robles as a perfect environment for growing premium grapes and making fine wines.
With growing conditions almost identical to the Napa Valley, ample water in many areas, and desirable soils, Paso Robles presented a unique opportunity for him to finally invest in the wine industry. When the property Bootjack Ranch came on the market in early 2001, Dick jumped at the chance to buy it and two years later brought the Heart Hill property . Combined they represent over 360 acres, of which 125 are now planted to 11 varietals. An additional 85 acres available for future planting.
Niner signed on legendary winemaker Chuck Ortman to advise, consult, and get the first vintage started and then hired Amanda Cramer in 2004 as full-time winemaker.
A native of New Hampshire, in 1997 Amanda Cramer left a teaching post in Washington DC to pursue her interests in wine. Amanda's background in mathematics and chemistry provided solid preparation for the road ahead.
She enrolled at UC Davis and studied enology and viticulture. She gained hands-on experience as a harvest cellar intern at Far Niente Winery in Oakville while still a student. When asked about her life-changing decision to launch a career in winemaking, she replied , "I fell in love with the very idea of winemaking – the interconnection between agriculture, chemistry and artistry. And the fact that winegrowing regions are the most beautiful places in the world is certainly a plus!"
After Davis, Amanda spent the next three years working at wineries, in three of the world's most recognized growing regions. She worked harvests at Chimney Rock and Robert Mondavi Wineries in Napa Valley, California; D'Arenberg Wines in McLaren Vale, South Australia; and even at Casa Lapostolle in Santa Cruz, Chile.
In 2002, Amanda returned to California to a post as Assistant Winemaker at the esteemed Paradigm Winery in Oakville. Working under the direction of legendary winemaker Heidi Barrett, her responsibilities included production, cellar and lab duties, as well as vineyard sampling for this 5,000 case, ultra-premium winery. With Barrett's guidance, Cramer polished her skills on Bordeaux varieties.
Inspired by the quality of the region and an opportunity to work with Central Coast winemaking pioneer Chuck Ortman, Amanda moved to Paso Robles to assume the role of Winemaker at Niner Wine Estates.
"Given the opportunity to help build a winery from the ground up in this attractive region that is on the rise, I simply couldn't't pass it up" she said. Amanda oversees all winemaking operations and crafts wines that demonstrate the diversity and elegance that many wines Paso Robles provide.
Amanda gave us a tour of this state of the art facility. We have been into many wineries over the years but walking in to Amanda's winery was like walking into a pristine NASA facility.
Starting at the top floor where the picking bins arrive during harvest she explained the process of how this gravity fed facility works. We proceed our way down to the next floors walking by the large stainless steel tanks that shined like mirrors. Next stop was the barrel room where these lovely wines age in French Oak.
Owner Dick Niner took over and showed off the vineyard which provided us a wonderful experience to see row after row of perfectly aligned newly planted vines. Nick also explain that even the water is processed by gravity and filtered every set up the way with natural plant filters.
From our location high in the vineyard we could see our next stop which was their newly finished
Hospitality Center
and looked forward to sampling some of these great wines and another tour.
The Hospitality Center houses not only the Niner Wine Estates tasting room, but a generous demonstration kitchen and boutique winery as well.



Education is a major tenet of the Niner Wine Estates vision. Rick Toyota told us the winery will begin offering wine and culinary programs as early as this summer and these will be some of the first ever for the Central Coast.
The courses will cover a wide range of subjects in varying formats, from hour-long sessions to more extensive multiple-day programs by the end of the year. Classes will be presented by the Niner Wine Estates' own in-house wine education staff, lead by Rick

as well as visiting chefs and leading experts which are sure to line up to cook in this beautiful kitchen.
By design, the rustically elegant stone barn Hospitality Center is as aesthetically conscious as it is eco-conscious.

Designer Anne Fortini's tasteful interiors reflect and accentuate the beauty of the winery's surroundings, while Mr. Niner, Ms. Cramer and architect Tim Woodle have designed Niner Wine Estates to be the first winery on the Central Coast to meet LEED certification standards through the U.S. Green Building Council, with final certification to be awarded in a matter of months.

Constructed and positioned to emphasize the allure of Paso Robles wine country, the Hospitality Center's expansive windows frame a view of "Heart Hill," the iconic heart-shaped design of oak trees once owned by brothers Claude and Clyde Booker.
Niner Wine Estates is the vision of Dick Niner, who believes that a blend of exceptional people, vineyards, tools, and ideas is the key to creating world-class wines and providing a one-of-a-kind experience in the heart of Paso Robles wine country.

Since its founding in 2001, Niner Wine Estates' list of award-winning wines has grown to include Bordeaux, Rhone and Italian varietals, including their flagship Bordeaux blend, "Fog Catcher." This independent, family-owned company is truly dedicated to making exceptional wines by combining the best of traditional winemaking methods as it employs cutting-edge technologies.

In the LEED-certified winery, winemaker Amanda Cramer will continue to use estate-grown fruit from the Bootjack Ranch and Heart Hill Vineyard into wines that express their true varietal correctness with every sip. We look forward to visiting NINER as often as we can to watch this one of a kind project in the Central Coast grow into prominence.

Join VINO LAS VEGAS as they get a pre-view of this state of the art facility from owner Dick Niner and Winemaker Amanda Cramer
We have visited the Fusion Bar in the Palazzo on several occasions and have always been impressed with the artistry of their Mixologists.

Recently they earned the recognition that they deserved.
The Art of Design presented by EFFEN® Vodka is a unique series of events in Las Vegas, Denver, Chicago, and Milwaukee. In each city, premier local mixologists design the ultimate EFFEN® Vodka martini.
Guests have the opportunity to view the works of local artists, sample the freshly designed cocktails and vote for the most provocative premium martini.

On Thursday, April 22nd the competition took place in Las Vegas where THREE mixologists at Fusion Mixology Bar inside The Palazzo took home the coveted title of EFFEN® Vodka Mixologist: Emilio Turibico took first place and Wendy Verdel and Greg Black tied for second place. The competition was set up Iron Chef style where the mixologists, in two-man teams, had to select five ingredients from a selection of 50 items plus the liquor. Each mixologist was then given a limited amount of time to create the cocktail. The winning cocktails were:
Emilio Turibico:
SUN BURN
2oz Effen Vodka
1.5 oz Pineapple juice
2 Cactus Piece muddled
Wendy Verdel:
Effen Sweet Heat
One quarter slice of peeled cucumber
One quarter slice of jalapeño with seeds
Eight Raspberries
· 1 ounce fresh Sweet Lemon Sour
· 2 ounces of Effen Vodka

Muddle first four ingredients, add vodka and shake hard. Double Strain in Martini Glass.
Garnish with a long cucumber peel and raspberries.
Greg Black:
Effen Good Time
5-7 Blueberries, Blackberries
.5 oz egg whites
.5oz Cointreau
1 oz Effin Blk Cherry
2 oz "Fresh Sour mix"
Muddle, Shake and Strain...
Photo credit: IS Photography/http://www.imagesofvegas.com/
Our Congratulations to these three talented mixologists and the Palazzo !

VINO LAS VEGAS attended the first Sake Fever a few years ago and could not wait for it to return. Recently Sake Fever returned in a big way with 150 Premium Sakes and brewmaters to the Palms Pool and Bungalows.

Sake is a whole way of life and anyone who enjoys Sake should learn about how its made and what the " language " of Sake as well.



Sake or saké (pronouned /ˈsɑːkeɪ/ in English is a alholic Japanese beverage made from rice.

This beverage is called sake in English, but in Japanese, sake (酒) or o-sake (お酒) refers to alcoholic drinks in general. The Japanese term for this specific beverage is Nihonshu (日本酒), meaning "Japanese sake"



Sake is also referred to in English as rice wine. However, unlike true wine, in which alcohol is produced by fermenting the sugar naturally present in fruit, sake is made through a brewing process more like that of beer. To make beer or sake, the sugar needed to produce alcohol must first be converted from starch.



Sake is produced by the multiple parallel fermentation of rice. The rice is polished to remove the protein and oils from the exterior of the rice grains, leaving behind starch. A more thorough milling leads to fewer congeners and generally a more desirable product.


Newly polished rice is allowed to "rest" until it absorbs enough moisture from the air not to crack when immersed in water. After this resting period, the rice is washed clean of the rice powder produced during milling and is steeped in water. The length of the soak depends on the degree to which the rice was polished, from several hours or even overnight for an ordinary milling to just minutes for highly polished rice.
After soaking, the rice is boiled in a large pot or it is steamed on a conveyor belt. The degree of cooking must be carefully controlled; overcooked rice will ferment too quickly for flavors to develop well and undercooked rice will only ferment on the outside. The steamed rice is then cooled and divided for different uses.
Some of the steamed rice is taken to a culture room and inoculated with
kōji
mold (麹,
Aspergillus oryzae
). The mold-laden rice is itself known as kōji and is cultivated until the growth of the fungus reaches the desired level.
When the kōji is ready, the next step is to create the starter mash, known as
shubo
(酒母), or colloquially,
moto
(酛). Kōji rice, water, and
yeast
are mixed together, and in the modern method,
lactic acid
is added to inhibit unwanted bacteria (in slower traditional methods, lactic acid occurs naturally). Next, freshly steamed rice is added and the yeast is cultivated over 10 to 15 days.
After fermentation, sake is pressed to separate the liquid from the solids. With some sake, a small amount of distilled alcohol, called brewer's alcohol (醸造アルコール), is added before pressing in order to extract flavors and aromas that would otherwise stay in the solids. With cheap sake, a large amount of brewer's alcohol might be added to increase the volume of sake produced. Next, the remaining lees (a fine sediment) are removed, and the sake is carbon filtered and pasteurized. The sake is allowed to rest and mature and then it is usually diluted with water to lower the alcohol content from around 20% to 15% or so, before finally being bottled.
The three types of special designation sake
Honjōzō-shu (

本醸造酒

), in which a slight amount of brewer's alcohol is added to the sake before pressing, in order to extract extra flavors and aromas from the mash. This term was created in the late 1960s to distinguish it, a premium sake, from cheaply made liquors to which large amounts of distilled alcohol were added simply to increase volume. Sake with this designation must be made with no more than 116 liters of pure alcohol added for every 1,000 kilograms of rice.
Junmai-shu (

純米酒

), "pure rice sake," made from only rice, water and kōji, with no brewer's alcohol or other additives. Before 2004, the Japanese government mandated that junmai-shu must be made from rice polished down to 70% or less of its original weight, but that restriction has been removed.
Ginjō-shu (

吟醸酒

), made from rice polished to 60% or less of its original weight. Sake made from rice polished to 50% or lower is called daiginjō-shu (

大吟醸酒

).
The term junmai can be added to ginjō or daiginjō, resulting in junmai ginjō and junmai daiginjō. However, as distilled alcohol is added in small amounts to ginjō and daiginjō to heighten the aroma, not to increase volume, a junmai daiginjō is not necessarily a better product than a daiginjō made with brewer's alcohol.
In Japan sake is served chilled, at room temperature, or heated, depending on the preference of the drinker, the quality of the sake, and the season.
Typically, hot sake is a winter drink, and high-grade sake is not drunk hot, because the flavors and aromas will be lost. This masking of flavor is the reason that low-quality sake is often served hot.
Sake is usually drunk from small cups called choko and poured into the choko from ceramic flasks called tokkuri. Saucer-like cups called sakazuki are also used, most commonly at weddings and other ceremonial occasions. Recently, footed glasses made specifically for premium sake have also come into use.
Another traditional cup is the masu, a box usually made of hinoki or sugi, which was originally used for measuring rice. In some Japanese restaurants, as a show of generosity, the server may put a glass inside the masu or put the masu on a saucer and pour until sake overflows and fills both containers.
Aside from being served straight, sake can be used as a mixer for cocktails, such as tamagozake, saketinis, nogasake, or the sake bomb.
Tōji (杜氏) is the job title of the sake brewer. It is a highly respected job in the Japanese society, with tōji being regarded like musicians or painters. The title of tōji was historically passed on from father to son; today new tōji are either veteran brewery workers or are trained at universities. While modern breweries with refrigeration and cooling tanks operate year-round, most old-fashioned sake breweries are seasonal, operating only in the cool winter months. During the summer and fall most tōji work elsewhere, and are commonly found on farms, only periodically returning to the brewery to supervise storage conditions or bottling operations

We have been asked about storage and ageability of Sake. In general, it is best to keep sake refrigerated in a cool or dark room, as prolonged exposure to heat or direct light will lead to spoilage. Sake stored at room temperature is best consumed within a few months after purchase.

After opening the bottle of sake, it is best consumed within 2 or 3 hours.[ It is possible to store in the refrigerator, but it is recommended to finish the sake within 2 days.
This is because once premium sake is opened, it begins to oxidize which affects the taste. If the sake is kept in the refrigerator for more than 3 days, it will lose its "best" flavor. However, this does not mean it should be disposed of if not consumed. Generally, sake can keep very well and still taste just fine after weeks in the fridge. How long a sake will remain drinkable depends on the actual product itself, and whether it is sealed with a wine vacuum top
Sake Fever provided its guests great opportunity to learn about Sake from the Tōji themselves. But the easiest way to know Sake is to learn the Four Basic Components .
RICE :
Sake rice is not your regular rice. It is about 3 times more expensive and there are about 60 different types used. But the best of all Sake rice is "Yamada Nishiki".
WATER :
Water is 80% of the final product. Sake is made from Rice and requires the essential ingredient of water. This important element is the "Terroir" in Sake because each areas water is slightly different.
KOJI :
Koji is a mold spore that is propagated with a special batch of cooked rice . Its enzymes convert STARCH info fermentable SUGARS . Without KOJI this Rice based drink will be like "HORCHATA" which is Cinnamon Rice Milk without Alcohol .
LOVE :
This is the Brewers secret where they add their own special touch or love to make their Sake their own. They do this by using different rice , water , koji and different techniques of polishing the rice.
The term "premium sake " is not has hard to find as you may think.

\Ginjo Sake Equals Premium Sake
The term "Ginjo" is synonomous with premium sake, the type of sake exported by eSake's brewers. Ginjo is not a brand name. It is a style (a grade, category, class) of sake. Ginjo sake is to regular sake what single malt scotch is to regular scotch, or what 100 % agave tequila is to regular tequila. Only 8% to 9% of all sake brewed is Ginjo grade. If you see the term "Ginjo" anywhere on the label, it means the sake you're about to drink is better than 90% of all sake out there.
A better way to see the different levels of Sake is our "very own " Sake bottle.
Premium versus Non-Premium Sake
Only the highest grades of sake are exported
to the USA by the brewers introduced at eSake.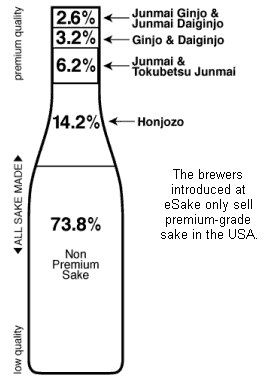 In addition to speaking with these Brewmasters from Japan , guests were able to sample great dishes from wonderfull dining venues such as Little Budda , Naked Fish Sushi & Grill , Island Sushi & Grill , Hyakumi , Shibuya and Japonais
Premium Sakes , a very inviting pool and great dishes provied guests of the 2nd Sake Fever and reason to look forward to Sake Fever # 3 , hopefully next year.

Southern Wine & Spirits of Nevada celebrated the 36th Annual UNLVino® in partnership with the William F. Harrah College of Hotel Administration. This Las Vegas tradition is a great opportunity for wine enthusiasts and winemakers to meet and enjoy the latest releases, the best vintages, and the finest varietals in support of scholarship.


UNLVino was created by Larry Ruvo, Senior Managing Director of Southern Wine and Spirits of Nevada and Jerry Vallen, founding Dean of the Hotel College in 1974. To date, UNLVino® has raised millions, making this one of the largest endowments for scholarship and student activities at the University of Nevada, Las Vegas and possibly the most unique educational fund raiser in the world.


Chef François Payard
Received the Dom Perignon Award of Excellence at
Bubble-Licious at the Garden of the Gods Pool









F

rançois Payard became a award winning pastry chef by playfully reinventing the concept of dessert. It is not a stretch to say that he has chocolate running through his veins—the third generation pâtissier grew up in his grandfather's renowned pastry shop on the French Riveria before working with the likes of Jacques Torres, Daniel Boulud and Sirio Maccione.
Payard's talent has garnered recognition from The James Beard Foundation, Bon Appétit, the International Pastry Competition Committee-Beaver Creek and the French Government. In 1997 he opened Payard Pâtisserie and Bistro in Manhattan's Upper East Side and delighted diners with his signature treats as well as modern French dishes. The restaurant received Wine Spectator's Award of Excellence for its exceptional wine list.
Each year guests and Honorees alike are treated with a 21 cork
Dom Perigon salute and then enjoy a sip or more of the very famous and delicious Champagne.
It really does not get any better than strolling around the classy Garden of the Gods Oasis pool as the sun was setting enjoying some very big names in Champagne.
Speaking about Champagne , VINO LAS VEGAS found a very special diamond amongst all of these Champagne Treasures. Vintage Sparking wines and Champagnes are always great to try. The 2003 Domaine Ste Michelle LUXE 2003 was a nice treat.
In addition to Champagnes , Sparkling wines and great cocktails , guests enjoyed delicious treats from Chef
F

rançois Payard and his amazing staff of culinary Artists
These very decadent treats paired Champagne really got the evening started and kept the guests happy for hours.
Bubble-Licious attracts , politicians , students , tourists , locals and even a few celebrities have been known to stop in on this great event. Each year UNLVino's Bubble-Licious gets better and better. We cant wait to see what the 37th Annual event has waiting for us next year.
The 4th annual Earth Day Food & Wine Festival is a weekend celebration at locations throughout the Central Coast. The feature event is held on Saturday afternoon at the historic Santa Margarita Ranch with over 200 purveyors of award-winning, sustainably produced food and wine. Growers, vintners, and chefs come together to serve delicious, one of a kind dishes made with locally sourced fruits, vegetables, meats, cheeses, olive oils, and more. Come and enjoy live music, a silent auction, unlimited samples of local cuisine, and meet the farmers who grow great food and wine while nurturing a healthy environment.
Located conveniently halfway between Los Angeles and San Francisco, the Central coast is the perfect escape from the busy hub-bub of city life. Here, you know that your food doesn't just appear at the store but that it is brought to you by local farmers. Join us and celebrate the farmers who bring us great food and wines all while encouraging practices that will sustain local farming for years to come.
Join us on Saturday, April 17, 2010 at the historic Santa Margarita Ranch for the Earth Day Food & Wine Festival and at additional times and locations throughout the weekend for special activities.
For tickets please go to
Earthdayfoodandwine.com
See you there !

Renown French Pastry Chef Francois Payard gave a pre-view of the Vegas Uncork'd Grand Tasting Venue , Garden of the Gods Oasis at Caesars Palace . The newly opened pool is the most breathtaking swimming pool experience in Las Vegas and located exclusively at the most legendary casino resort of them all. Caesars Palace

Spacious, luxurious and stately, this collection of exclusive watering holes, decadent cabanas and palatial sunbathing spots is the ultimate warm-weather destination, no matter whether you bow before the gods of the sun or the water. What a better place to show off the Grand Tasting but at this Oasis on the Las Vegas Strip.



François Payard is a third generation French Pastry Chef born in Nice , France . François cultivated his passion for the art of Pastry as a child in his grandfather's acclaimed shop, Au Nid des Friandises on the Riviera. He grew up surrounded by the delicious classic French pastry in the tradition carried on by his parents and grandparents for over fifty years.


His dedication and passion earned him positions in several of France's finest kitchens. In 1988, Payard held his first position as Pastry Chef in Paris at La Tour d'Argent (***Michelin). The following year he went on to become Pastry Chef in the kitchen of Alain Senderens at Lucas Carton (***Michelin). In these renowned restaurants he met the challenge of creating dessert menus worthy of a three star Michelin rating.

In 1993, François Payard joined Chef Daniel Boulud for the opening of Restaurant Daniel (****NY Times) where he delighted guests with his chocolate and seasonal fruit menus. In 1995, The James Beard Foundation named François "Pastry Chef of the Year" in recognition of his accent on flavor combined with a unique sense of pastry design.


Chef and owner François Payard will be at the Grand Tasting but will also welcome guests for an intimate afternoon tea and dessert demonstration. This special Mother's Day weekend event is a unique glimpse into the technique of this celebrated chef and his classic Parisian pastry shop. Hosted by Bon Appétit Editor-In-Chief Barbara Fairchild. This Vegas Uncork'd experience also includes a signed copy of François Payard's book, "Chocolate Epiphany."
This speciall event is currently sold out. Please check back later as tickets may become available or call 877.884.8993 to be placed on the wait list.
The Grand Tasting features an impressive 60 chefs, more than 50 of the city's most celebrated restaurants, and over 30 wines and spirits from around the world, plus hosted lounges, demonstrations, and so much more. This event is a foodies version of heaven it self.
Many names that guests are sure to recognize will be pool side with many delicious dishes. The Chefs expected to share their artistry are ,
Zach Allen
,
Kim Canteenwalla
,
Alain Ducasse
,
Susan Feniger
,
Bobby Flay
,
Osamu "Fuji" Fujita
,
Carlos Guía
,
Martin Heierling
,
Masa Ishizawa
,
Jean Joho
,
Hubert Keller
,
René Lenger
,
Shawn McClain
,
Mary Sue Milliken
,
Rick Moonen
,
Bradley Ogden
,
Charlie Palmer
,
François Payard
,
Luciano Pellegrini
,
Carla Pellegrino
,
Megan Romano
,
Richard Sandoval
,
Guy Savoy
,
John Schenk
,
Matthew Silverman
,
Kerry Simon
,
Joung Sohn
,
David Spero
,
Masa Takayama
,
Jet Tila
,
Laurent Tourondel
,
Joel Versola.
This lists of Chefs should impress anyone who enjoys the best culinary experience that Las Vegas and the World can offer all at one beautifull venue. Join us !
The Grand Tasting
Time:

May 7, 7:30 PM - 10:00 PM

Resort:

Caesars Palace

Venue:

Garden of the Gods Pool Oasis
$175 Advance, $195 Door
VegasUncorked.com
Pinot noir (French pronunciation: [pinoˈnwaʁ]), the name is derived from the French words for "pine" and "black" alluding to the varietals' tightly clustered dark purple pine cone-shaped bunches of fruit.
In the vineyard this varietal is sensitive to light exposure, cropping levels , soil types and pruning techniques. In the winery it is sensitive to fermentation methods, yeast strains and is highly reflective of its terroir with different regions producing very different wines. Its thin skin makes it highly susceptible to bunch rot and other fungal diseases.

Pinot wines are among the most popular in the world. Joel Fleischman of Vanity Fair describes Pinot noir as "the most romantic of wines, with so voluptuous a perfume, so sweet an edge, and so powerful a punch that, like falling in love, they make the blood run hot and the soul wax embarrassingly poetic." Master Sommelier Madeline Triffon calls pinot "sex in a glass" Peter Richardsson of OenoStyle christened it "a seductive yet fickle mistress!"


For lovers of this very special variety , there is only one place to be the first weekend in March . That would be in Shell Beach California to attend The World of Pinot Noir.
These two days include in-depth Tasting Seminars, Grand Tastings a Featured Tasting with a guest Burgundian producer, two Gala Pinot Noir Dinners and even a Santa Barbara style Paulée. All of these extraordinary food and wine extravaganzas are hosted by participating wineries and feature an outstanding Sommeliers from across the U.S.













The 10th World of Pinot Noir began with a Tasting of Vintage Old World Burgundies. This very intimate and tasting featured aged Burgundies from the cellars of the Court of Master Sommeliers. Led by Master Sommelier Fred Dame, each table was hosted by a master sommelier .


Friday afternoon was just the mid-point of the first day when guests joined more than 95 Pinot Noir producers from across the globe showing both current releases and library selections in three tasting tents located on the bluffs overlooking the Pacific Ocean.
Gourmet appetizers prepared by Chef Gregg Wangard, Chef José Garcia and The Culinary Team of The Cliffs Resort as well as exceptional cheeses from The Cheese Shop Carmel/The Cheese Shop Santa Barbara allowed all of the attendees some nice walk around dishes as they enjoyed wonderful Pinot Noirs in Riedel Crystal Pinot Noir glass.

The evenings even get better with two Gala dinners featuring
An elegant evening at The Cliffs Resort Gala diner began with a white "Pinot Family" wine & sparkling wine reception on the Pool Terrace and passed hors d'oeuvres prepared by Chef José Garcia and The Culinary Team of The Cliffs Resort.
Chef Roy Yamaguchi
of the famed
Roys of Hawaii
, created an exceptional dishes that showcases his fusion cuisine.
Chef Roy Yamaguchi holds the distinct honor of being Hawaii's first recipient of the prestigious James Beard Award. Since he first introduced Roy's twenty years ago, he has evolved as one of most respected and celebrated chefs in the world today.
Right next door to the Cliffs is the Dolphin Bay Resort and another Gala dinner that their famed LIDO restaurant overlooking the Pacific Ocean. Chef Budi Kazali recently named the "Ultimate Chef for 2009" by Central Coast Magazine 2004 took over the Ballard Inn & Restaurant in Santa Barbara County, prepared an unforgettable meal featuring fresh local ingredients and his French-Asian cuisine that was truly mouth watering.
For those adventurous attendees, there was an opportunity to test their wine and food pairing skills against an Iron Sommelier panel! Eight wines and four culinary selections were evaluated "blind" with pairing and an interactive audience/panel discussion moderated by
William Sherer MS
.
Audience members were asked to provide an convincing argument for their favorite pairing. The winners were be awarded a magnum of that wine signed by the winemaker in attendance. This is one of the most sought after events over the years and the sommelier panelists always deliver an exciting experience .
A second tasting by the sea with more than 100 Pinot Noir producers from across the globe showed off both current releases and library selections to the attendees. With their Pinot glasses full , Guest were able to enjoy gourmet appetizers prepared by Chef Gregg Wangard, Chef José Garcia and The Culinary Team of The Cliffs Resort. Sample exceptional cheeses from The Cheese Shop Carmel/The Cheese Shop Santa Barbara.
The last night of the World of Pinot Noir provided us a very special treat. The Santa Barabara style Paulee Dinner is always a big success.
A Paulee Dinner , was inspired by the Burgundian tradition that celebrates the end of harvest. Traditionally, each attendee of the Paulée brings a special bottle to share with the group.
A special feature of this tradition is that each winery participant attending will bring a special bottle and guests are not required to bring a special bottling - unless, of course they want to.
Visiting Chefs from across the country shared their specialties in a buffet style dinner . Small plates were " at Chef Stations and of course gourmet cheese/bread tables were available throughout the venue. This years participating chefs included :
Rob Baker, Me and the Hound, Monterey Peninsula CA
David Garwicki and David Reardon, Bacara Resort, Santa Barbara CA
Frank Ostini, Hitching Post II, Buellton CA
Cal Stamenov, Marinus at Bernardus Lodge, Carmel Valley CA,Clark Staub, Full of Life Flatbread, Los Alamos CA, Paolo Stoltz, The Men's Club, Dallas TX, Craig Von Foerster, Post Ranch Inn, Big Sur CA
The World of Pinot Noir is not only a Meca for Pinot lovers but for foodies as well. Its beautiful location over looking the Pacific Ocean at the the Cliffs resort for the two tastings as well as the seminars , dinners and much more make the World of Pinot Noir the ONLY place to be the first weekend in March . Mark your calendars for 2011, we certainly know we will.
Join VINO LAS VEGAS as we take you to World of Pinot Noir 2010 , experience some great wines and speak with winemakers from around the world
VINO LAS VEGAS has been well acquainted with Don and Lindsey Schroeder for several years . And have been fortunate to have seen them acquire well deserved recognition for their hard work.




Many may find the name CHIEN an interesting name for a wine. However , If you meet Don and Lindsey you know it fits them to a tee !


Don and Lindsey moved to the Lompoc Valley from Eureka, CA in early 2000 to help Don's mother and stepfather by overseeing the installation of their vineyard, which is now the award winning Ampelos Vineyard.



As the vineyard implementation was under way they longed to have a friend on the ranch with them. Living in a farming community everyone seemed to have a "vineyard" dog . In May of 2000 they visited the Santa Ynez Valley Humane Society to see about adopting a dog. After carefully perusing each animal Don was drawn to one specific dog. All of the dogs had leapt at them in their kennels as if to say "PLEASE PICK ME!"

One dog did not. He was the only one to growl at them and for some reason Don felt that he could provide a home for him . The next day they returned to adopt Bear, a 2 year old male, Chow-Chow/Labrador mix breed. After trying unsuccessfully for almost 2 hours to get Bear in the truck they finally got him home. He had been neglected and abused before they brought him into their lives and for the first few nights , Bear would not come in the house without picking him up and carrying him inside . Every time they would leave the house he would scream and cry and when they would return home he would cry as if to tell them "thank you for coming back."

Over the next few months Bear and Don developed a special bond. Eight years later Bear is an extremely well adjusted, happy dog that loves to cuddle and receive all the love that is given to him. We at VINO LAS VEGAS can attest to what a great dog Bear has become , and even enjoys running through the vineyards with our own dog we we visit.

"We chose the name Chien for one very simple reason. We have two passions in our lives, dogs and wine. Because we love the wines of Alsace we chose the name Chien which is the French word for "dog". We feel that after raising 2 dogs, especially one that was so badly abused, making wine has a very similar foundation. Lots of love, patience and persistence is needed. We have that in abundance for Bear, Shady and Chien " Don said.


Don took a job for the 2000 harvest with Babcock Vineyards and his passion for wine was born and he never looked back. Don said " I had always enjoyed drinking wine and after working those first long days of harvest the passion inside me flourished". Over the next few years , Don worked at various wineries and furthered his passion for wine and the wine industry. He is currently the wine maker for the renowned Seasmoke Cellars


Don and Lindsey launched their own label with Chien Wine . After harvest of 2006 they decided to make a small batch of an Alsace blend for the next harvest and created Edelzwicker, meaning "noble wine", this wine is a traditional white blend of Alsace. The 2008 Edelzwicker was even named Wine of the Week by the LA times in March 2010.

Their blend consists of Riesling, Pinot Blanc and Gewurtztraminer. This crisp, balanced blend truly represents what they believe are the many beautiful qualities of these often under appreciated varietals. With the release of their 2009 vintage they introduce the first Santa Barbara County, and third California Gruner Veltliner.

The 2008 Edelzwicker started with 1.3 tons of Pinot Blanc from Bien Nacido Vineyard and 2 tons of Riesling from Camp 4 vineyards. Each batch was picked under 24 brix and fermented separately in stainless steel tanks. This wine has never seen oak barrels. Their belief is that 'in order to express the purest varietal characteristics, and preserve the quality of a white wine, it must be made in stainless steel.' They bought a few gallons of Gewurtztraminer and added it to the final blend.


The Edelzwicker was bottled in early February 2008 and will show best in 3-5 years, it is meant to be a graceful ageing wine.


2008

Edelzwicker
Santa Barbara County
Alcohol: 14.1%
pH: 3.2
TA: 7.6 g/L
RS: 0.6%
Don and Lindsey have such passion and love in everythinjg they do and this can we tasted in their Chien wines as well. We look forward to their next vintage and other white varietals that are sometimes over looked. For more about Don , Lindsey and Chien wines please visit
http://www.Chienwines.com

They also support a very admirable cause with their wines. Chien will donate a portion of their profits each year to a very deserving animal rescue foundation,
Noah's Ark
. Noah's Ark has been rescuing and rehabilitating abused and neglected animals and children for 30 years. If you would like to donate directly to Noah's Ark you can do so at their website:
http://www.noahs-ark.org
Happy Canyon AVA was approved in October and was based on a petition written by vintner Wes Hagen, whose Clos Pepe Vineyards are located in the nearby Sta. Rita Hills. Wes Hagen had previously written the petition that established Sta. Rita Hills as an American Viticultural Area (AVA) in 2001. We have watched the process of establishing the AVA over the last few years and It was a long time coming.

Happy Canyon AVA includes 23,941 acres and lies in the eastern part of the 40-mile-wide Santa Ynez Valley and the northern part of Santa Barbara County, California and comprises canyon terrain, hills, and river and creek basins to the east and south of the San Rafael Mountains, west of Lake Cachuma, and north of the Santa Ynez River.

For hose not so familiar with the Santa Ynez area , Happy Canyon is approximately 3 miles to the east of Highway 154, and some 5 miles from Los Olivos or Santa Ynez. Located at different elevations, the four vineyards of Happy Canyon Barrack, Starlane, Vogelzang and Westerly are situated at different elevations and on different soils. At the hotter end of the Santa Ynez Valley, Happy Canyon maintains the theme of warm days and cool marine influence with a few variations.

Climate
Of all the grape-growing areas in the Santa Ynez Valley, Happy Canyon is the furthest inland and has the warmest climate. It is located in the easternmost part of the Santa Ynez Valley, and the daytime highs and nighttime lows in that part of the county vary more in a 24-hour period than those in other parts of the valley. At about 12 miles west of the AVA, the inland mountain ranges change direction from west-east to north-south. The north-south mountain ridge blocks the Pacific coastal breezes, preventing them from cooling the canyon. As a result, the ridge traps in heat in Happy Canyon during the warmer growing months.

Topography
Elevations within the Happy Canyon boundary line range from 500 feet in the southwest corner to 3,430 feet in the northeast corner, in the foothills of the San Rafael Range. Between the Pacific Ocean and the Santa Ynez Valley, hills and mountains trend west to east. As the elevation of the Santa Ynez Valley rises from west to east, the hills and mountains turn from a west-east direction to a generally north-south direction. The Happy Canyon viticultural area is located inland and lies along mountains and hills with a north-south orientation.
What makes Happy Canyon so different is its hot climate. The
Sta. Rita Hills
at the western end of the Santa Ynez Valley is the ideal climate for Pinot Noir. Hot Happy Canyon with its rolling terrain, high slopes and varied soils seem to be one of the best areas in the Central Coast for growing Bordeaux varieties. The soils in Happy Canyon range from sand and gravel to loam (rich soils composed of sand, silt and clay mixed with organic matter) .
The microclimates of higher elevations in this region have less temperature variation because the days stay cooler and the nights stay warmer than at lower elevations. This climate is best for Cabernet Franc, Cabernet Sauvignon, Merlot, Petit Verdot and Sauvignon Blanc. The heat is also good for Syrah and other Rhône varieties as well.
This newest AVA just adds to the diversity of Sanata Barabara County wines. The upcoming Santa Barbara County Vintners festival is a great opportunity to sample wines and visit America's newest wine appellation.
Having just returned from the Sta. Rita Hills we noticed The winter rains have produced a lush and beautiful cover crop and the hills are alive with the signature poppies and lupines that signal bud break on the vines. This could mean only one thing , One of our favorite events that we have covered for years is right around the corner.


The Santa Barbara County Vintners' Association will be celebrating this rite of the season with their 28th annual Vintners' Festival, to be held this year at River Park in Lompoc - the "City of Arts and Flowers" and VINO LAS VEGAS will be there.
The festival features the wines of 130+ members of the Association, live and lively music, a silent auction and wine country cuisine by the area's finest chefs.
This great event which runs from 1:00 to 4:00, is hosted by the vintners and winemakers and they will be pouring their latest releases of wine alongside more than two dozen local restaurants, caterers and purveyors of specialty foods.




The fresh new foods and wines of spring will be the focus, along with live and lively music to put a "Spring" in your step. Add to that a Silent Auction to benefit local charities, art displays from area artists and a day of wine country camaraderie – a fitting welcome for the beginnings of the first vintage of this new decade.
In Santa Barbara County, the unique east-west orientation of the coastal mountains forms valleys opening directly to the Pacific Ocean. This unique topography allows the flow of fog and ocean breezes to shape distinct microclimates, perfect for the cultivation of classic grape varietals and world class wines.
The 50 miles stretch from Point Conception to Rincon constitutes the longest east-west traverse of shoreline from Alaska to Cape Horn. Here, the Santa Ynez and San Rafael Mountains form a unique coastal range - the inland flow of fog and ocean breezes make the region one of the coolest viticultural areas in California. This means that the fruit has an unusually long "hang time" on the vine, allowing it to fully develop the acids, flavors and tannins needed to produce wines of distinctive character.
Within Santa Barbara County there are three distinct appellations: Santa Maria Valley, Santa Ynez Valley, and Sta. Rita Hills. In addition, the Los Alamos Valley region, between the Santa Maria Valley and Santa Ynez Valley appellations, remains a strong and successful grape growing region. Slightly less than half of the grapes grown in Santa Barbara County are used by local vintners, with the balance are exported to wineries outside the area.
This area has to be one of our favorite areas in California. This amazing group of wineries and vineyards owners are still "farmers" in the true sense of the word. You can taste their passion with every sip of a wine from this one of a kind area. Join VINO LAS VEGAS once again and spend the weekend in the vineyards and tasting rooms of Santa Barbara County and enjoy some of our nations best wines. For tickets and more information please go to sbcountywines.com.
See you there !

Vegas Uncork'd Presented by Bon Appétit Debuts
Palazzo After Hours – Crushed: Wine that Rocks!
The Palazzo Resort has always proven to us that it was "THE" Place to be on the famed Las vegas Strip.On May 8th the Palazzo shines when Vegas Uncork'd Presented by Bon Appétit, the culinary world's most extraordinary epicurean event held this year from May 6-9, introduces to its 2010 lineup Palazzo After Hours – Crushed: Wine that Rocks! This new event takes place May 8 poolside at The Palazzo beginning at 10:30 p.m.
With Crushed, restaurateur, winemaker and rock and roller Joe Bastianich pairs the great wines of the world with the greatest music of all time. Accompanied by Scott Ian of Anthrax and the electrifying band Six Foot Nurse, Bastianich will lead guests and chefs on a synesthetic exploration of explosive tunes from Led Zeppelin and The Beatles, asking the audience to listen with their palates and taste with their ears. Along with outstanding wines, this poolside after‐hours celebration also features signature bites from the all‐star lineup at The Venetian and The Palazzo, including a Slider Bar from First Food and Bar Executive Chef Sam DeMarco, salumi and cheese from executive chef Zach Allen of Carnevino, and a Rockin' Wing Bar from Chef de Cuisine Vince Chiyuto of Lagasse's Stadium.


"Held in what is hands-down the most exciting epicurean environment anywhere, Vegas Uncork'd Presented by Bon Appétit makes an ideal backdrop for introducing the Crushed concept to a

sophisticated and – most importantly – fun-loving audience," said Bastianich.
Bastianich, who owns B&B Ristorante at The Venetian in partnership with Chef Mario Batali, joins a roster of Vegas Uncork'd personalities that includes some of the world's most recognized chefs and decorated sommeliers. Unlike that found at other major culinary events, all epicurean talent headlining programs at Vegas Uncork'd Presented by Bon Appétit maintains a Las Vegas restaurant or works in its kitchens or wine cellars every day.
"We are honored to add The Venetian | The Palazzo, as well as Joe Bastianich, an icon within the wine and spirits world, to this year's event," said Paul Jowdy, publisher, Bon Appétit magazine. "We've always believed in the vitality of Las Vegas and its culinary scene, so it comes as no surprise that more and more top names in the epicurean arena taking note and signing on to be part of Vegas Uncork'd Presented by Bon Appétit."
Added Rob O'Keefe, executive director of Vegas Uncork'd:

"Each year, our goal is to build upon the previous event's success by carefully selecting innovative, new offerings to add to the schedule. Crushed fits perfectly into this strategy
The playground for Vegas Uncork'd Presented by Bon Appétit is destination wide and features five anchor partner resorts, each of which offers an enviable roster of on-site restaurants and in-house chefs: Bellagio, Caesars Palace, MGM Grand, Mandalay Bay and Wynn | Encore.

Joining the lineup for the first time this year as an associate partner is The Venetian | The Palazzo. The event's charitable partner is the Three Square Food Bank, which is dedicated to providing wholesome food to hungry people, while passionately pursuing a hunger-free community.
To purchase tickets and to see more information about this year's event lineup, please visit www.VegasUncorked.com. There, you may also opt in to receive information about additional events as they are added to the schedule.
Joe Bastianich is a passionate winemaker, teacher and restaurateur whose collection of restaurants with partner Mario Batali includes Las Vegas' B&B Ristorante and New York City's Babbo, which earned three coveted stars from The New York Times and the prestigious Best New Restaurant in America award from the James Beard Foundation.
In 2005, he was recognized as an Outstanding Wine and Spirits Professional by both the James Beard Foundation and Bon Appetit magazine.

Most recently, he and Mario were awarded the 2008 James Beard Foundation's Outstanding Restaurateur Award.
Vegas Uncork'd Presented by Bon Appétit is made possible by the following sponsors: the Las Vegas Convention and Visitors Authority, exclusive travel partner Travelocity and exclusive automotive sponsor Infiniti.